Flowers of the King
Not having a good mood tonight, due to the stupid working attitude of MAS officer in Kuching International Airport. I am really wondering what is the meaning of having a nice and new airport when they cannot even provide basic service that is a piece of cake in my eyes.
Really ridiculous to hear the officer actually took the umbrella of passenger to use as his/her own, and now they couldn't find the umbrella back for me. I am really very disappointed on the working attitude of this place, and very worry. It is so call the 1st place where people from around the world know Kuching for the 1st impression.
Enough on that. Don't want to let this stupid matter spoil my mood more tonight.
Time for a lighter moment...
Durian, is the King of Fruit. This is a common knowledge. But how many of you knows the magic of its flower can play?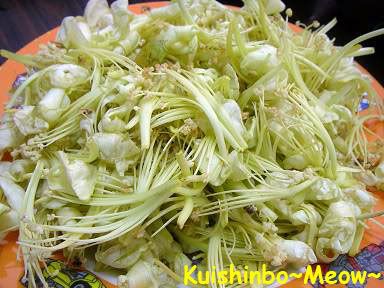 In case if you don't know how durian flowers look like, here they are.
It is not durian season now, though I was craving for it. Somehow, miracle happened, I found 2 small plates for sell in Serian market.
Oolala~~~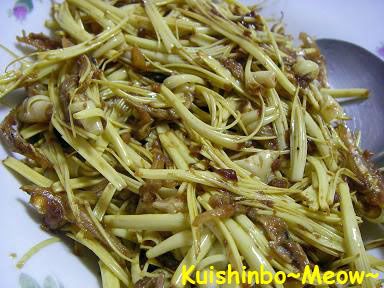 Mum was out of chili. So, she was using belacan and small dry fish to stir fry them for me.
Gosh~~~ the moment I heard the sound of these beautiful flowers sizzling in the hot wok, I was getting excited as well.
Very soon, the whole nice smell of this plate slit through the kitchen door and was seducing my olfactory system.
It stimulated my saliva to keep dripping and my stomach started to sing.
By the time mum put this plate of belacan durian flower in front of me, I couldn't wait anymore. I actually ate 3 bowls of rice with it only. I finished almost whole plate of it by myself. :P
Man~~~ it is definitely one of the best vege that I enjoy a lot. So nostalgic, yet never able to forget.
Hehe... now tell me, how many of you actually know durian flower is a great delicacy. I am curious to know.
For those of you that never tasted this, make sure next time when you spotted durian flower in the market, don't let go the chance to try it. You will love it if you like paku and bidin. ;)
Time to have an early sleep. Diving class starts tomorrow.