Free lobster feast
Geeee... today is a memoriable day for fish fish. I almost made myself drown again, after I have tasted 3 times of nearly drown. The only different was, this was my first time to struggle so hard inside sea water.
The amount of salty water I have swallowed accidentally almost made me puke. How glad I was I am with my BCD on that time.
But no worry, I am still alive, and happily writing this post. *as long as I don't think about the fact that I am jobless now* -_-"""
Lesson for the day : Never KPC try to go up to the surface alone at the position with "strong" current. *it is a piece of cake for those that know how to deal with it, but clumsy fish like me, it is a HARD TASK*
MALU!!! Third time diving only already got boat drive over to save me up. *blush~~~*
No, no... it will not make me back off from diving. I am just starting to enjoy and discover the fun. In fact, I am going to village to stay for 1 night in 2 more weeks time. Phew!!! I think I'll be doing my first night diving. Woohoo!!!
Next week will got time to go out with some of my friends, because no diving next week. Tee heee heee... time to meet with MF, CL, KI and others.
Ok, ok...
I bet many of you are curious with my title already.
So, here is my question.
When you see the word "lobster", what is on your mind??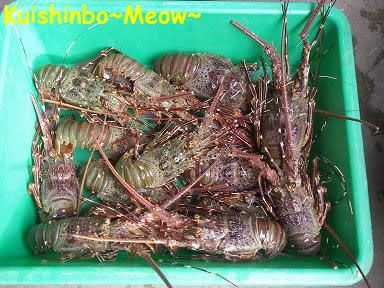 Tra la la~~~ this is what on fish fish's mind.
Yes, a total of 15 very fresh lobsters, that just came out from the sea.
I followed another 2 divers to see how they catch the lobsters. Then, me met with current, making me kinda tired. So after telling them I go up first, I went up alone and that the stupid episode above happened.
Geeee... rule of thumb for me. Never do diving alone (that I always follow), including going up to the surface (that I didn't follow this time). One time only already making me almost crying. But at least, this is a very very good experience for me. I shall never never repeat the mistake again.
My instructor after knew what happened to me, he look at me and said,
"Shame shame on you, fish fish"
. with his teasing way. So suey one!! Not even a single comforting word to soothe my heart. *Bleh~~~* *Ok, ok, I know it is my fault lar~*
Thanks Kimleng for swimming over trying to get me. Thanks for the cool captain to take all the trouble to move the boat over to save me. *Geeee... I was feeling very guilty that time*
Eh hem!! Sorry, drifted away from my talk again.
Continue...
So, what happened to the 15 lobsters? 4 were brought home, which one of them was by me. Muahahaha...
The left over?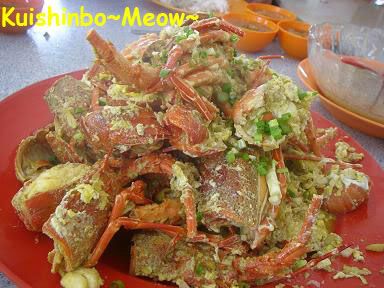 My instructor asked the restaurant that we always go to cook the 11/15 lobsters into this huge plate of Lobster with egg.
*slurp~~~*
This is my 1st time tasting a lobster. *yes, it is true, a kuishinbo like fish fish have never tasted any lobster before*
Ah~ the fresh lobster was great. Not too much on the fresh, I am enjoying the oh-so-difficult-to-eat head. Too bad, the way they were cooked kinda spoilt the good quality of the lobster. Should have made the dish a dry one, instead of a watery one.
But still, I had 1 head and 1/2 flesh.
Not that I do not want to eat more...
But because we have another 5 dishes + 9 big fishes cooked in different way.
Imaging only 13 of us... To finish all of them in one go??? No way!!
Do you know how much it cost?
It was only a mere RM10 each person, including drinks.
Where to get such a great lobster and fish feast with money so cheap.
The most important thing, it is 100% sure very fresh.
Now, tell me, do you think I will be able to get thinner even though diving do burn calories? :P I really doubt that.
Oh, to end the post of the day...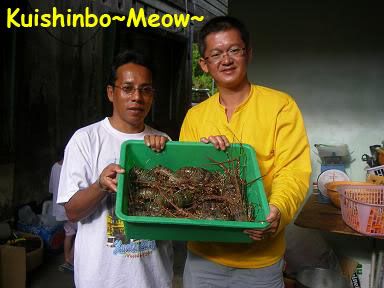 Let me proudly introduce you Mr. Kambing (right) and Mr. John (left). One is the talkative type, one is the quite type. Yet, they made great partner. Oh yes, you will never stop laughing with these people. They are really great!
It was really exciting to see how they catch the lobster. I am amazed with their movement and speed.
Thank you once again, for letting me have my virgin lobster today.
Muak! (to Mr. Kambing) and Muak! (to Mr. John). ^_^