Frog leg
It has been years I didn't eat any frog legs. After back to Kuching, I eventually had a taste on it again. A long time ago taste.
Frog legs are special dish to me. When I was still a very young kid, my father used to work in Simunjan. A little kampung with no water and electrical supply at that time.
However, that was one of my most wonderful childhood memory.
A beautiful night scene with bush full of firefly lightning. The very loud sound of all types of living creatures playing orchestra in the paddy field beside my house.
Sometimes, daddy would choose to go to catch the fat and juicy frogs, so that the next day we would have nice frog leg porridge. Or mum would just simmer it with ginger and soysauce for a great dinner. That was the moment I would eargerly follow him, in the dark night without any lamp pole, only the dimly lit kerosine lamp led our way.
My daddy always very good in catching this. We would have a few that will make a great dish for a meal for 3 (brother was still too young, he only need milk that time)
Hehe... that was just a small part that formed the wild nature of mine. :P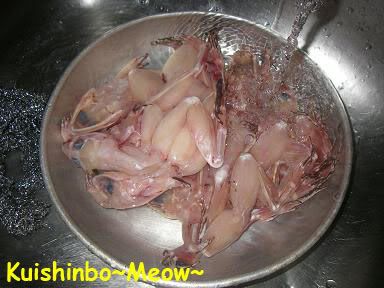 So, to rewind back my old memory, I went to the kitchen to see how the frog leg is prepared. Geeee... didn't expect to see that they were actually naked whole frogs. I don't remember mum prepared the frog leg this way. I guess I was too young to remember.
However, after a while...
The chef turned all these into...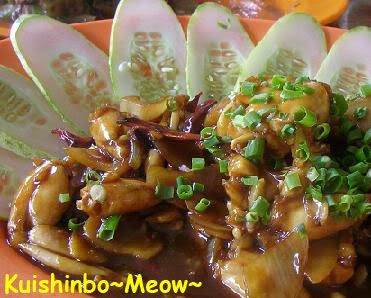 Hot and spicy soy sauce frog leg.
This is one of the most delicious frog legs I have ever eaten (beside mum's). The aftertaste spiciness, made me really sweating.
Gosh!! It has been a really long time I didn't eat until sweat. The feeling was nostalgic.
The only demerit... too many bones, troublesome to get rid of them.
Ah~ but thanks for the recall.
So, do you have any food that will remind you about your childhood?