My 1st bowl of true Kueh Chap
For 11 years, I have been eating Kueh Chap with Taufu Pok and Egg only. I was actually very enjoying it.
Today, I went to my favorite Kueh Chap stall with my mum and her friend.
I decided to go for a special Kueh Chap.
With all those inner organs as topping.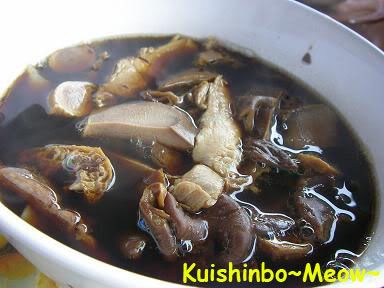 Tralala~~~ a true Sarawak delicacy. Kueh Chap. Surprisingly, all the inner organs tasted nice. Very soft, kinda melt in one's mouth. There was no "special smell" of a typical inner organ in the soup.
Hmmm... not a bad 1st time experience for me after so many years.
Only one thing, mum ordered without egg and less kueh for me. Hmm!! How can I have a bowl of kueh chap without any egg.
I just love it.
*slurp* Nevermind, safe for next time then.
p/s: Ok, I'll try to arrange a meeting of mum mum for us bloggers in Kuching then. :P Jom... let's go to makan. Yum Yum~~~ But need to wait after Tuesday, I need to go to Pai Sua, will contact those of you who have gave me the contact numbers. ;)