My home 2 sweeties
Now, let me tell you something... beside tasting great hometown foods everyday, I am also enjoying meeting the 2 cuties in my house.
In fact, the existance of these 2 sweeties in our house have created a lot of liveliness that didn't appear in my house for quite a long time. Yes, adult world is something boring sometimes, as you can't act innocently without thinking about the consequences.
But these two cuties, they are really the precious for us. Priceless.
It is in fact really amazing how smart and new idea kids these days can have.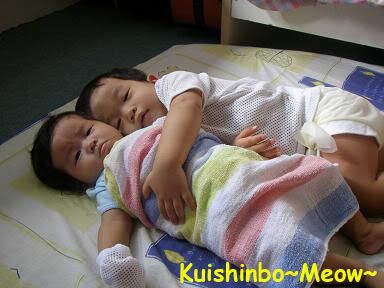 The love of brother sister.
Oh... the younger one, her brother's leg must be too heavy for her. She her :( face.
Hey hey, but that didn't stay too long.
Sooner she is enjoying her brother's warm hug. ^_^
Muakkkkkkk... I LOVE THE TWO OF THEM.... SOOOOO MUCH. ;)
p/s: Diving class whole day theory lesson almost done. Tired. Tomorrow I'll have the confined diving class, whole day again. *dup bup* *dup bup* Time to have an early rest soon. Tata~