One day to Serikin
I woke up very early today, at 6.00am. However, as uncle came late, we only started our journey at 7.15am. According to him, the place only open around 9.00am.
So, where have I been today?
I went to Serikin market in Bau with my mum, my uncle and aunt.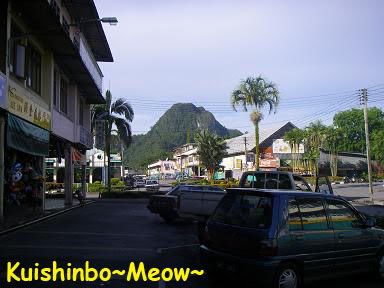 We stopped by in Bau town area for our breakfast.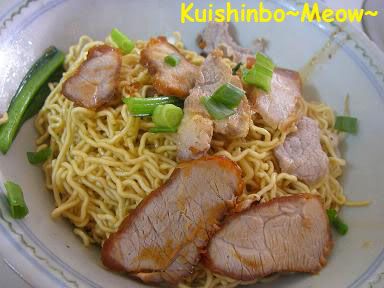 A bowl of very traditional breakfast in my hometown, Kolok Mee. I requested for Char Siew Oil added today. Geee... so nostalgic. *slurp~~~*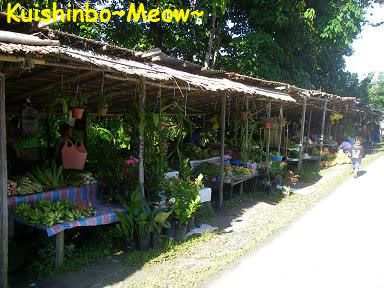 On the way to the Serikin market, there was a roll of stalls selling all kinds of interesting thing.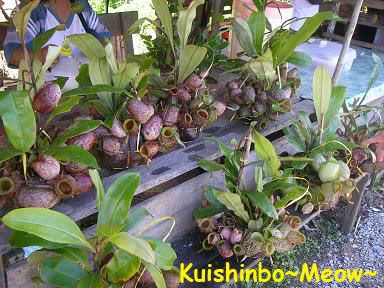 Wow!!! I've never seen pitcher plants being sold in this way.
Do you know how much is one pot of this???
RM5!!! Can you believe that? Gosh, this is really cheap. Mum bought 4 pots of it. Hmmm... I wonder where she is gonna put them, as I don't really see a good place for her to plant them.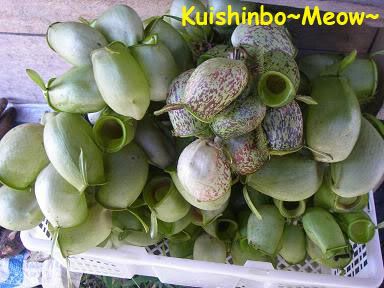 There were also pitcher plant cups sold in bunches.
Now, for non-local reader, do you know what are these for???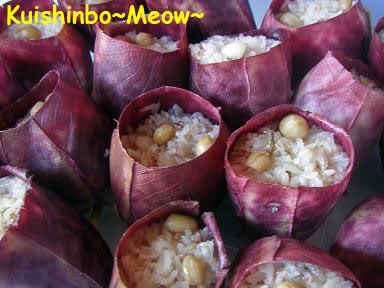 Tralala~~~ They are for Pitcher Plant Rice.
I've never tried one at all. I wanted to buy one, but stopped by the 3 adults. According to them, "No, the water that cook it might not be hygenic." :( *sob sob*
Geee... now I am eager to cut some of the cups of my mum pitcher plant to cook one for myself. But then, I know mum is going to kill me. Better forget about it.
Hey, those of you have tried it, is it good???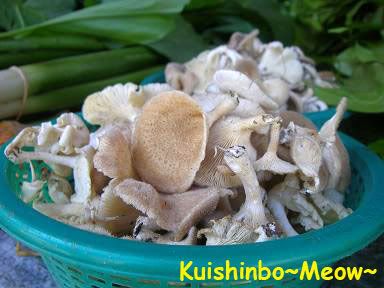 I spotted these hairy mushroom. Decided to buy one basket to try. Hmmm... will make a review once I have tasted it. Really cheap, only RM 1 per basket. Ooo la la~~~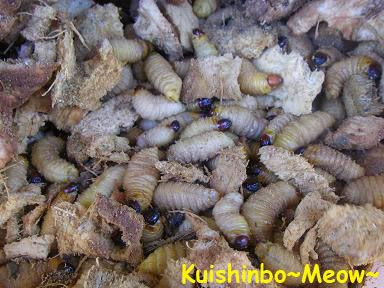 Oh yeah! I found these cuties. It has always been my favorite. I used to eat them a lot when I was a kid. However, it has been years I didn't eat them.
Nope, I didn't buy them as feast today. Don't feel like to. But I can tell you, these are really very high protein source.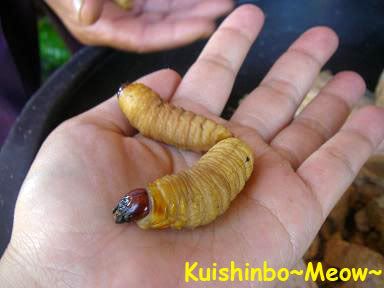 Wriggling in my hand. Gosh!! They are really adorable. Try put them one your face next time, it feels funny how the soft flesh contact with your face.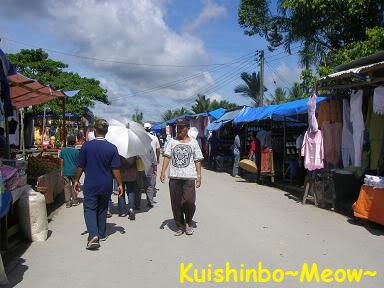 Finally, we reached the Serikin market. Not much of eating stuffs. However, the 3 adults spend a few hundreds RM for buying Indonesian stuffs there.
It was a great outing for me.
Oh yes, you have to go an experience the fun yourself next time.
;) Tata~~~