Stupidity on road
Frankly speaking, some of the drivers in Kuching really amazed me. I came back not even full 1 month, but my driving patient has came to the limit today. I honked a brainless lady for the 1st time today. Usually, I don't, as this is very impolite in my dictionary. But, I just have to...
I was driving on a straight road from 4 1/2 mile to 3rd mile, with a speed of about 80km on right side. Then, a Kancil came out all sudden, without even looking at the road cut into my line, making me have to make a really emergency break. A really fast break. Damn!!! You think this road is belong to your agong one, is it?
I didn't honked her on this. But seriously, if I didn't make the emergency act, I can tell you, her car will be fully turned into a junk piece of metal, while mine will still be fully nice, maybe the bumper will drop out only.
When I was still hot in temper with her brainless act, she did another "good act" again. Without doing any signaling that she was going to turn right, she just suddenly break and turned right.
Argh!!!! Damn!!!! *Peeeeeeeeet!!!!* I almost wanted to get down of the car and give her really good slaps if it was not a high speeding road area.
You know, sometimes, no matter how careful you are, there will still be accident.
Why??? Because of those brainless drivers, who are so selfish, never think of others and only themselves.
Damn!!! (forgive my rough word here)
Is it so difficult to do a cautious act and informing other people properly with you signaling??? It doesn't have to take more than 1 second to do so, ok??? What have you learnt in your driving lesson?
Enough! I will just have to be much more careful with cars around me. Sometimes, it is really irritating driving on the road. Since when the driving manner in Kuching has changed into such???
Let me show you another stunt I saw on road a few days ago.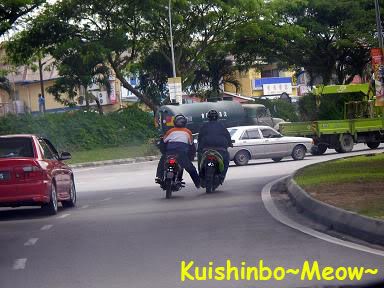 We were at roundabout at 3rd mile, a place that is quite busy with vehicles in the morning, when I saw this amazing thing.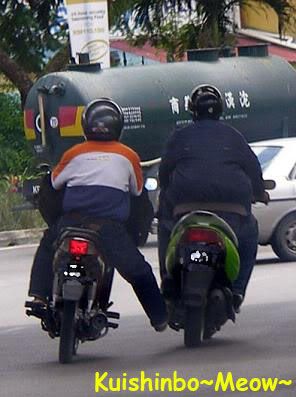 See?? One biker put one of his leg on another bike.
Why? His bike was broke down, and they were actually doing this "towing" bike thing with such a way on a busy traffic area.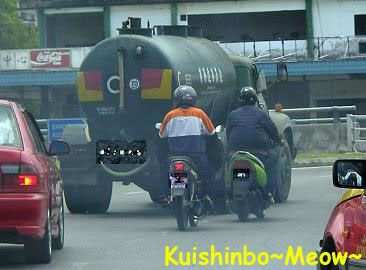 It almost hit the fuel tank in front of them, that the biker finally willing to let off his leg, but with his bike not functioning at all.
Luckily, the car behind them was patient enough, at let them moved to the left side, so that they could drag the bike with their "hands" to a safer place.
Man~~~ I really don't want to imagine what if they did bump into the fuel tank...
Gosh!!! I am cold sweating for them, seriously.
Well, I think we just have to bless for our safety everytime before I start the engine. You never know when are these brainless people gonna drag you into their troubles.
Ok, I better stop here. Enough for my rage.