Three colours pudding
I was feeling very tired today. Sleeping from 12.30pm till 4.00pm just now, before I started to do my "homework".
I need to revise my submitted paper. Man~~~ I guess I didn't use my brain for quite some time, as I take much more effort to concentrate than the time I was in Japan. Too many distraction, you know, the good food on the dining table, the goo goo ga ga of my little nephew, etc...
I even watched 2 hrs of my favorite drama just now. *gulp* I am supposed to submit my revision to my sensei tomorrow, geee... I doubt if I can make it on time.
See, now I am blogging... *hopeless*
Oh, I found one nice dessert in Kuching...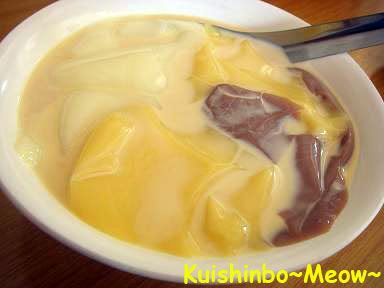 Three Colours Pudding.
It is a combination of 3 types of pudding inside non-sweetened milk.
The choco flavour, was good. But the least attracting among the three.
The melon flavour, was better. But I am not really a fan of melon.
The yellow one, is the one I want to recommend here.
You see yellow, you see pudding, you will think it is either mango pudding or normal caramel pudding.
No no no~~~ If I want to vote the best tropical pudding...
I would definitely say this.
It is JACKFRUIT PUDDING!!!
Ha!!! Tell me, have you ever tasted one?
It was really great!!!
The taste are richer and more temptating than my favorite mango pudding. It was so soft and smooth that once I put them int my mouth, they just slipped down into my esophagus.
Jackfruit pudding is a must try!! ;)