Deep Dive Temptation
Hmm... I think I am addicted more and more to diving. After didn't dive for 2 weeks, I actually crave for the moment to have myself under the sea.
Last Sunday, I have the time to join the trip again. It was a great one, although my mask was having problem due to my carelessness.
I think I am starting to know how to enjoy my moment undersea, though there are still many things that I have to learn.
Tomorrow my instructor is going to bring a group of people to Sipadan for a 5 days diving trip. Urgh... but not fish fish because I was too late. However, I make up my mind to join the trip in July. Yes, for sure I will go. Now, how am I going to mention that to my mum. *gulp*
Today, I went to grab some pictures that taken by friend from him. The deep dive pictures were nice. How I wish I can see them with my own eyes.
Hopefully soon.
Meanwhile, let me share a few pictures that I selected from the files. The deeper you go, the less colour the underwater world will be. So, you see the colourless pictures as below...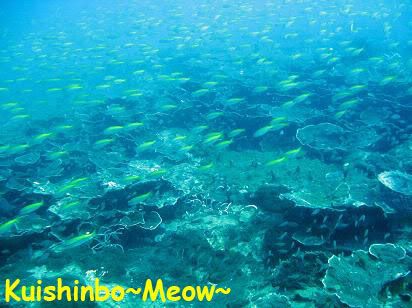 I saw many fish underwater, but I have never seen such a huge crowd. I want to see.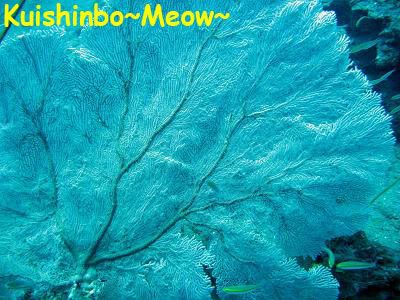 Sea fan is one of my favorite plant underwater. It is elegant, seem to be quiet, but the fact is there are a lot of camouflaged organisms actively moving around it.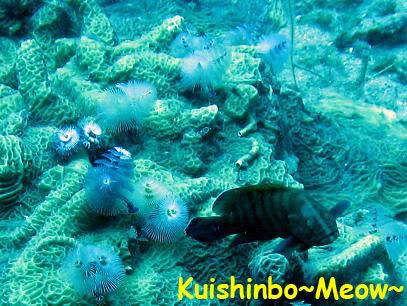 These spiral looking creatures are called Christmas-Tree Worms. They can grow until 4 inches. Instead of this dull looking colour, they are actually very colourful. It is one of my favorite worm underwater.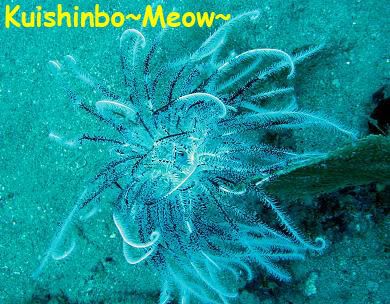 I love feather star. I was amazed the first time I tried to touched it lightly with my pointer and the feathers were responding to the touch. 2 weeks ago, I saw a very nice feather star garden with a whole garden of feather stars. I guess the strong current at that moment attracted these lovely creatures to use the moment to capture their foods. They are another colourful creatures that beautified the underwater world.
My instructor is planning for the trip to wreck, deep sea and blah blah blah... I have told him put me in for each trip.
Boohoo... these 2 months going to be very exciting. ;) One thing that I greatly regretted, I didn't buy a water-proof case for my camera when I was in Japan. Urgh!! Seeing all the things underwater yet I couldn't take any picture of them is something really torturing.