A + B + C
UNBELIEVABLE!!! I accidentally deleted my whole post without saving it. *Grrrrrrr....* *stoooopid fish!*
Anyway, I was having a late lunch with my mum's friend yesterday.
She recommended a great place for lunch.
Yes, I had great Char Siew. Not too fancy on the roasted pork and roasted chicken though. But its Char Siew, even at 2pm, it still soft and juicy.
The Taukeh Nior recommended its Char Siew is the best during morning. Oh yeah~ Imaging a big piece of glittering hot Char Siew that just-came-out from the charcoal griller. The juice of the char siew dripping slowly from it. Who will be able to reject such a seduction? I am sure gonna try it early in the morning next time.
So, where is this place?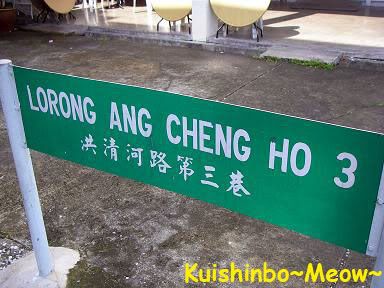 It is located at Lorong Ang Cheng Ho 3.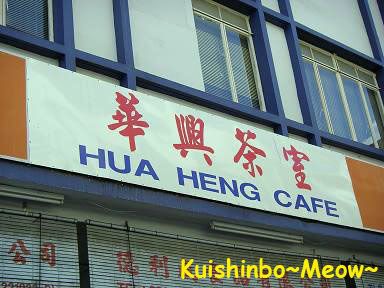 You will easily spot it. Hua Heng Cafe.
The Taukeh Nior is a beautiful, hardworking and very nice lady. You will like her once you communicate with her.
She worked non-stop making drinks while her worker Kiau Kar watching TV. *faint*
So, we let her made her own original drink... created by her during her sleepless night on bed.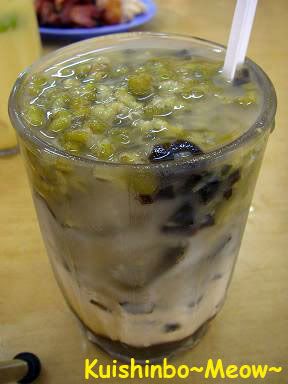 This one is called Green Bean Shian Cau Milk. With a layer of brown sugar syrup at the bottom. Tee hee hee... never see such a complicated combination. But I have to say it was interesting in term of taste, texture and look. ;)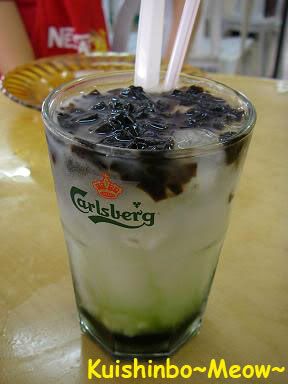 The 2nd one...
Shian Cau Barley Wheat Grass. This one was also unique too. Compared to the 1st one, it was milder. Suitable for thirst quenching during a hot sweaty day.
Curious to know the true taste? You have to make one yourself.
No, better make it much easier...
Just go to Hua Heng Cafe and order one. All you need is to shake your leg relaxingly while waiting for this big glass of cold and tasty drink to serve to you. ;)
Oh my, I wonder what will be the next creative drink she gonna think in her next sleepless night. :P
Ok, time to stop and rush back to my sister's company. It is her company's opening ceremony today. I am really happy for her. ^_^
Update for the ceremony coming tomorrow. Tata~~~