Din Bian Hu and Cao Zhu Mian
Yesterday, I went to have 2 sets of bowling game with my cousins. It has been more than 5 years I didn't play any bowling.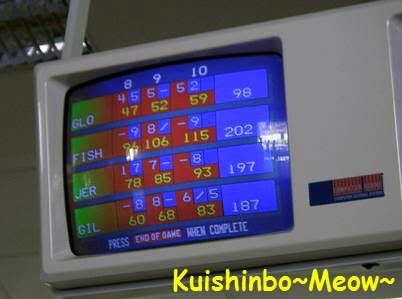 Tee hee hee... some of my blind blind hits gave good points to my game. I know I know, the score is very low compare to the pro, but I was really enjoying the moment with my cousins. 5 years ago, we promised to play the game, but we missed that. Finally, we have the game yesterday.
Geee... now I am thinking whether I should go for a proper bowling class. :P I discovered it is a fun sport yesterday.
After that, we went to take Purikura. It was a promise with my youngest cousin. We went to Xing Guang to take. Haha... the machine was in Japanese, and the staff was pointing each step to teach us. So weird. It is definitely not a good feeling to have other people stared at you when you are taking this big head photo. Bleh~~~
However, eventually when he looked at the way how I deal with the machine, he knows I am familiar with the thing. So, he went away. Phew!!!
We picked up aunt and went for an early dinner.
Diehardx, guess what? Haha... aunt brought me to the butterfly park shop that you mentioned. Only went I came home, read your comment then I realised you recommended it too.
This proves famous eating places in Sibu generally will be well-known. :P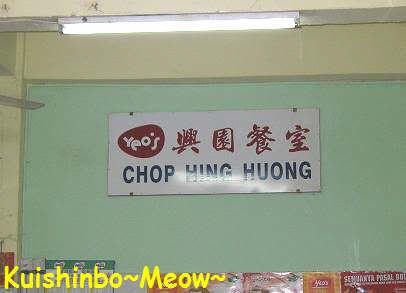 The shop named Hing Huong. Located in an alley.
It has been there since decades ago. So, you see an old and not hygiene space for you to eat. Who cares? Eat first, pain later.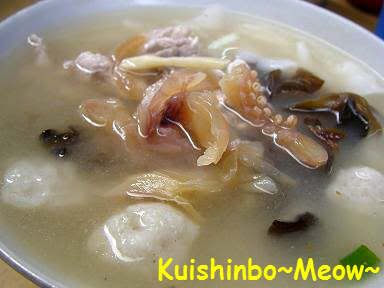 We came for the famous Din Bian Hu (Wok Side Glue). Ehhem, pardon my direct translation. :P
Oh yes, definitely the best Din Bian Hu I have ever tried. Aunt ordered a special bowl for me. Once again proves you have to be in the place to eat its famous food. I couldn't find this kind of Din Bian Hu in Kuching. Or maybe got, but I didn't realise.
My aunt told me an original Din Bian Hu should be quite soupy. Black fungus and Jin Zhen vege with rehydrated dried cuttlefish should never be lacked inside a bowl good Foochow Din Bian Hu.
Mmmm... *slurp slurp slurp* I was the fastest to finish the whole bowl. :P Oh yes, would love to have a second bowl the next time I come to Sibu.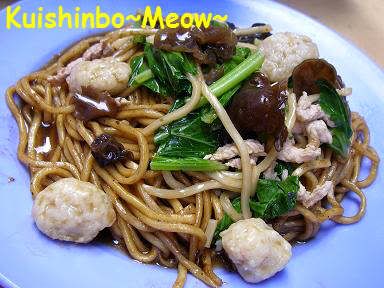 Two of my cousin ordered Cao Zhu Mian (Fried Cooked Noodle). This one also good too, but as I am not a fan of yellow noodle, not much comment on this one.
Fishball in this shop is famous. Well, it tasted good, but the texture is not firmed enough. I like balls that give more munchy chewings.
So, next time if you go to Sibu and want to look for a bowl of good Din Bian Hu, this will be the place. ;)