The Hills Have Eyes
I am feeling very down and tired these few days. Why emotional problem can brain squeezing so much. It is no good. Gave myself a good cry today. I must try to get out of it. Bless me.
Yet, I just received my ex-uni Prof's letter that I need to do quite a number of thing for my paper revision. Tomorrow is gonna be a busy day for me. Friend's wedding dinner to attend too. At least this is something good. I am eager to meet my old friends.
To forget the problem temporarily, I went to watch
The Hills Have Eyes
2006 with my mum and sis yesterday night. Wednesday is a movie day, and the tickets are very cheap. (RM5 per ticket in Kuching vs RM57 in Japan)
Before I watched the movie, I didn't read any review of it, so I have no slight idea about the story line. Only before the movie started, sis was telling me it is a horror movie.
After I watched it, I have to say a lot of cruel scenes was inside. Not suitable for "kids". I am surprised the government didn't cut those "scenes" as they would usually do. Good for us. However, what I am really concern about is the messages behind it.
It worths the watch. Please take your time to watch it.
It makes me really thinking, how many of these victims from the nuclear bomb tests actually trying hard to survive in the hidden corner?? Once I think of that, it is very heart aching.
In the movie, one of the tests victim sang his national anthem...
Nobody cares about their existance. To survive, they turned into "beasts"... hunting for humans.
They are the forgotten group. The sacrificed group.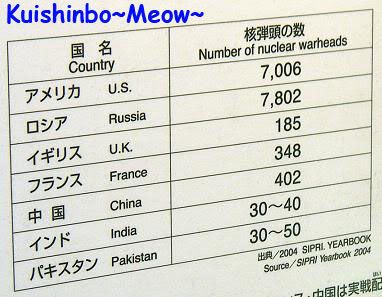 See this table?
I took this during my last trip to the
Hiroshima Peace Memorial Museum
.
The table stated the number of nuclear warheads that owned by the countries stated in 2004. The number is increasing.
Although most countries wanted to abandon the usage of this eerie weapon, there are still countries that want to use it as a power for military.
I wonder how many explosions tests have been done until now. I dare not think. The victims, we don't see them, but they do exist.
It is very saddening.
It is very selfish.
Why must?? No other options???
Enough. Time to off.