I was at...
I am still in Sibu today. Decided to be with my aunt whole family for a few more days. Before coming up to Sibu, I was in another 2 towns.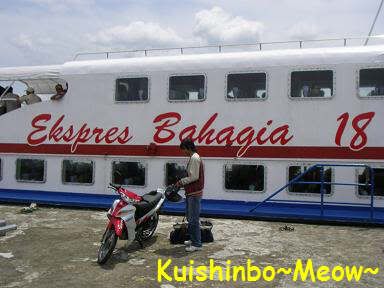 My first time using an express boat to travel in Sarawak. It was a fun experience for me. Fish Fish was exploring Sarawak river during the whole ride.
After a 3.5 h ride, I reached...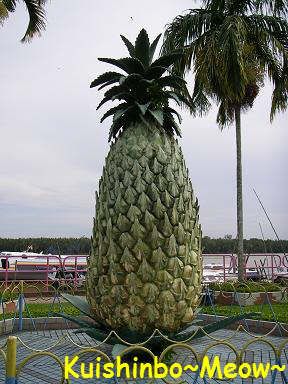 ... the pineapple town. Sarikei.
Sarikei is a town famous with agricultural activity. They produce a lot of pineapple and dragon fruit. My 2 favorite tropical fruits.
Oh yes, I had one pineapple chose by my friend. It was really a sweet and crunchy choice. One of the pineapple I have ever tasted.
It is a quiet town, I would say. Quite clean. But very hot.
Recent years, as a lot of young people moved out to other cities to work, the town development is kinda not moving.
One interesting thing is that Sarikei has a lot of banks. According to my friend,
"You see, Sarikei people have money to earn, but no place to spend. That's why usually people only bank in their money, but seldom they withdraw them."
Oh... I see. Sarikei people are rich. :P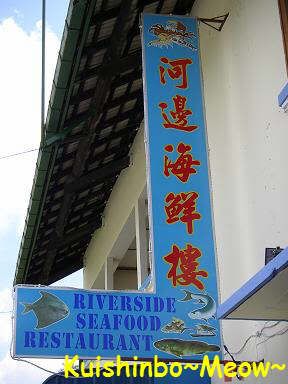 I was brought to this Riverside Seafood Restaurant for a welcoming lunch by my friends.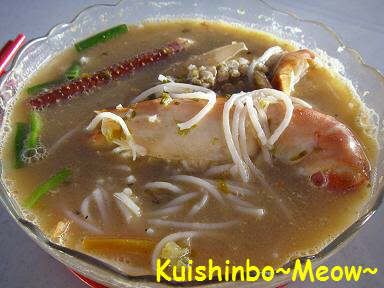 Yum Yum~~~ each of us had a big bowl of this HUGE prawn vermicelli. The sweetness of the soup, given by the umami of these big fresh prawn. A bowl of this was for RM10 only.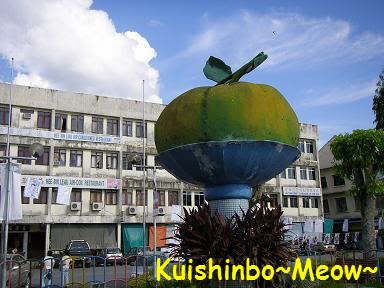 Later that day, after a short rest, we went to Bintangor by car.
Geee... I never know Sarikei is this near to Bintangor. I learnt to know Bintangor used to known as Binatang as there were a lot of animals in this town. Interesting fact.
The big sour tangerine, is the famous product in Bintangor. It is basically smaller than Sarikei.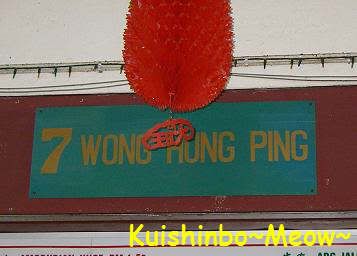 We came all the way for the big sour tangerine, and this stall named Wong Hung Ping.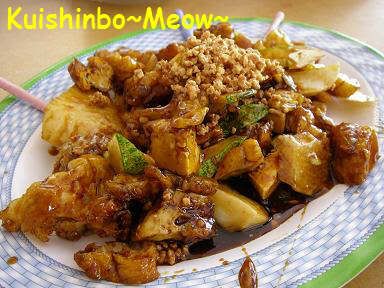 For its famous Bintangor rojak.
I love this one. Kinda different from Kuching's rojak. The sweetness of brown Atap sugar gave a unique blended taste to the prawn paste. There were a lot of different ingredients inside this plate of rojak.
Fresh and crunchy cucumber, sengkuang, pineapple mixed with gravy absorbed fritter, yao char kuey, tofu and sweet potato. Instead of the ground peanut, the plate was topped with coarse peanut crunch, giving a nice texture for your palate pleasure when you bit on them.
It is definitely a rojak that worth trying.
*slurp* Thinking about it now making me salivating now.
I am really greatful to have these 2 friends giving a nice and sweet memories in Sarikei and Bintangor. I only paid for my boat ticket. They were really spoiling me with all kind of nice treats. Thank you so much.
*Wave Wave* Hello, unknown friends from Sarikei and Bintangor, Fish Fish was at your hometown. ^_^