Sheraton's curry fish head and Sui Guo Bing
This will be my final post about my food adventure in Sibu. :P Well, I still have other delayed posts in Kuching that I need to post up. So, better Sibu's report stop at this one.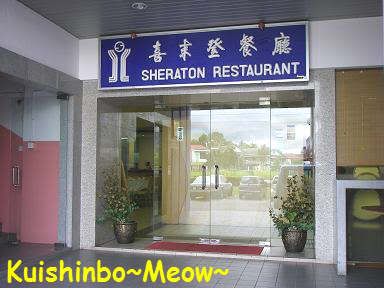 Aunt brought me to Sheraton Restaurant for its famous curry fish head on last Sunday noon.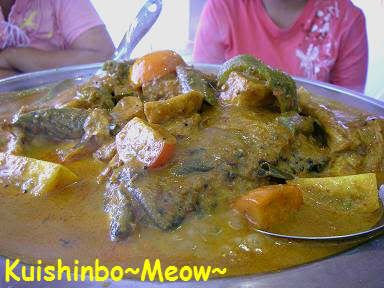 Geee... a big plate of curry fish head. Taste good. But the vege portions were too stingy. The gravy was thick and match aptly with the white fragrant rice. Nothing much to comment on the fish flesh, as usually for fish curry, I would go for the veggies and not the fish flesh.
We had other 2 types of dishes. They were not good, quite disappointed, so will not show here.
As recommended by one of the staff, we decided to try the Sui Guo Bing here.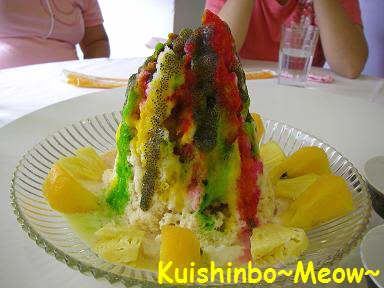 Tralala~~~ geee, what a colourful combination. It looked like a rainbow volcano.
It was a good choice. Very refreshing and a good thirst quencher after a hot bowl of curry.
Usually, I don't eat red bean, but this red bean gave very nice blending to the whole bowl.
Yes, the curry fish head and this Sui Guo Bing are something worth to try in this restaurant. However, I can't say the same thing for the other dish.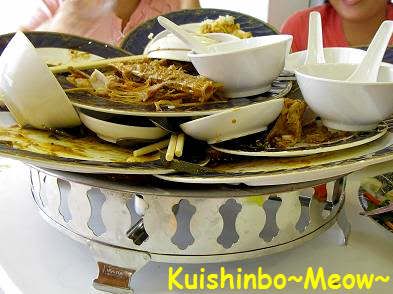 Hehe... see how the waitress cleaned our dirty dishes away.
The service here was not bad. If you want an air-cond place for food, this might be a nice choice. Remember, the food quality for the dishes are varied, so it depends on your wise choice to get a good one. ;)
Well, don't know when will be my next trip to Sibu. Maybe a few years later, the moment when my cousins are getting married. Tee hee hee... *Oops, it is still too early for them now*