Teochew Porridge and Beef Noodle
I was back to Kuching yesterday evening. Having flu for almost a week. Finally dragged myself to see a doctor. :P I want to go to dive this Sunday, must try to get well soon.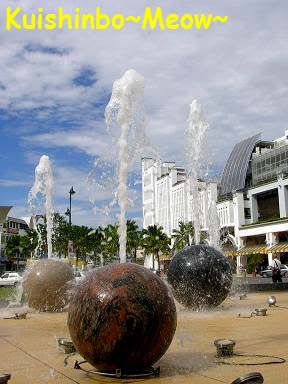 This is some round balls that I saw in Central Market in Sibu. A large market. Nice.
According to Bert Bert, these are the Feng Shui Ball. Geeee... that is interesting. I would never expect Feng Shui Ball in Sibu town.
After walking around hunting for ingredient to cook fish fish rojak style Fetuccini, we decided to have breakfast on the upper floor of the market.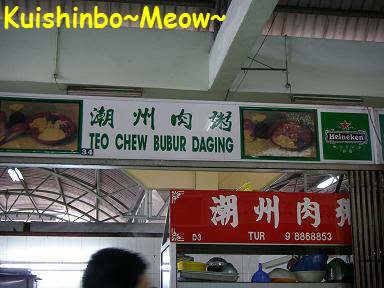 Bert Bert recommended this Teo Chew Meat Porridge that he had once, as recommended by his friend.
It was election time. The taukeh was too busy chatting with guests about election, rather than focus on his business. *tsk tsk tsk* Election fever.
Anyway, after waiting for a while...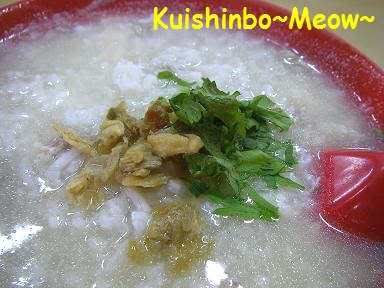 Three bowls of Teo Chew Meat Porridge were served to us.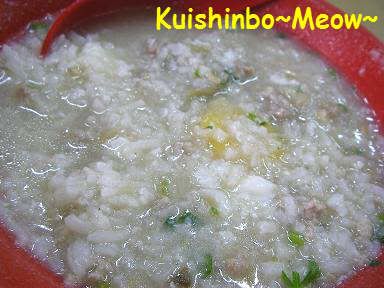 We ordered a half-cooked egg as extra ingredient.
Quite a nice one. Simple yet yummy. Nothing else, but just the combination of porridge, meat and egg.
Geee... porridge sure is a warming food, I was sweating heavily after gulping the whole bowl.
Later in the late noon, we were on the way going to aunt's shop. Suddenly, I saw one very familiar sign, which I vaguely recalled I saw it somewhere.
Suddenly, I remembered...
"Ah!!! Ah Ho Beef Noodle!!"
I yelled out. Geee... you should see how surprise my uncle and cousins were that I know about this shop. :P
Thanks
Huai Bin
... for
that post
. I am glad you introduced it to us. And yes,
diehardx
, I went to try before you mentioned it in my previous post. :P
I decided to give it a try. So, we had a tea time in this shop. Ai yah~~~ Sibu people were a curious bunch. They must be wondering where was this sakai Fish Fish came from, took pictures on everything. -_-"""
Oh yes, the business is sure good in this shop.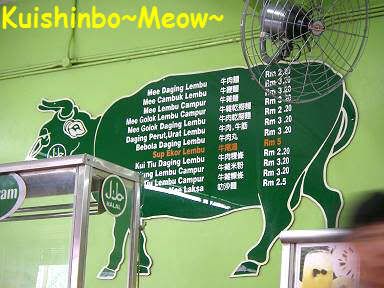 I kept looking at the menu... I wanted to try the Ox-tail soup, but I didn't. My appetite dropped a lot due to the flu, so ordering a bowl of noodle was enough for me.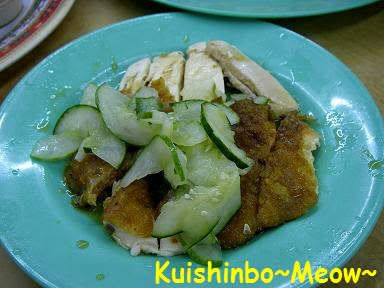 Jerry ordered a plate of chicken rice. He told me this is the famous thing in this shop too.
I tasted. It was ok. The rice not bad, not oily. But the meat was just ok.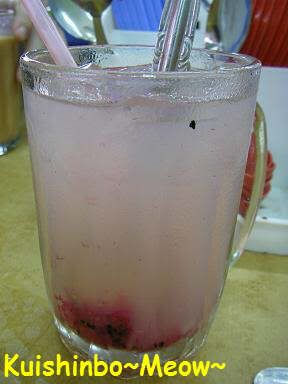 While waiting for my order, I had a glass of dragon fruit juice.
Hmmm... I was expecting a real red glass of dragon fruit juice. Disappointingly, it was a glass of drink added with concentrated grape juice syrup and pitifully little red dragon fruit flesh. Too sweet for my palate. I think next time I will make one 100% dragon fruit juice for myself then.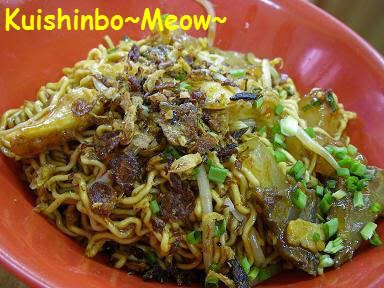 My uncle, Bert Bert and Gloria ordered Mixed Beef Noodle.
The noodle was topped with beef and tendon. With the special spicy sauce that was blended in, this made a really good bowl of Dried Beef Noodle.
Well, it was really a nice bowl of noodle, except it was too salty.
I am not so much of a noodle person. I would usually go for Kueh Tiaw over any other type of starch.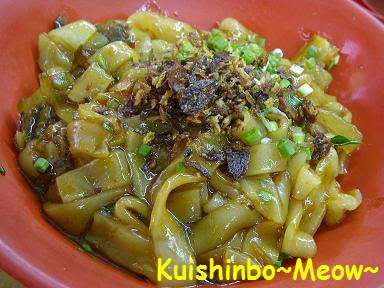 So, fish fish had a bowl of Dried Mixed Beef Kueh Tiaw.
Mmmm... I love it. The Kueh Tiaw is smooth though a bit sticky. *slurp slurp slurp*
Once again, too bad it was too salty. Should have reminded the owner not to make mind too salty. I love the tendon, giving my mouth good exercising time by munching the elastic tendons. :P
I wish Kuching has this type of beef noodle too. It would be a good place to be a regular customer. At least fish fish will. ;)