Chicking Eating House
Selamat Hari Gawai!
It is Hari Gawai today, went up to Serian to visit my sister's friend. It has been a few years I didn't come back to Kuching to join the Gawai celebration, the feeling is nostalgic. Had some nice Kueh Jala, but didn't had any chance for a sip of good Tuak, the famous Sarawak's rice wine. Ai yar~~~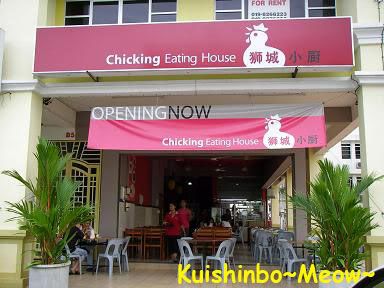 I went to Chicking Eating House with my family for an early lunch a couple weeks ago. This restaurant is owned by my brother's friend. He has started to sell chicken rice since 8 years ago, learnt in Singapore, worked a few years there. Then, he decided to come back to his own hometown to run the business. In a few years, he has turned his chicken rice stall into this nice Chicking Eating House.
This new location has been there for about 6 months, and business during lunch time is good.
We were among the earliest to reach that day, for an early lunch.
For 4 people...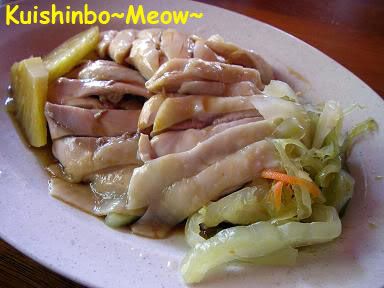 We ordered a plate of boiled chicken. It was good. The meat was soft and juicy, even for the breast part. The only thing I don't for boiled chicken is the skin.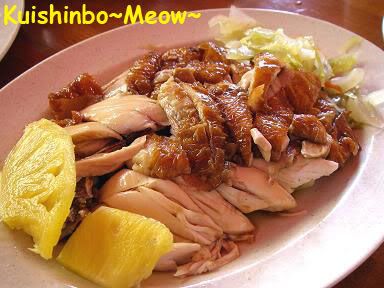 We also ordered a plate of BBQ chicken, which is the latest new added choice in the outlet. The meat was firmer compared to the boiled version.
Usually, I would prefer BBQ chicken more to boiled chicken, but I prefered boiled chicken more this time. Hopefully after more drilling, he will make more tasty BBQ chicken in the future.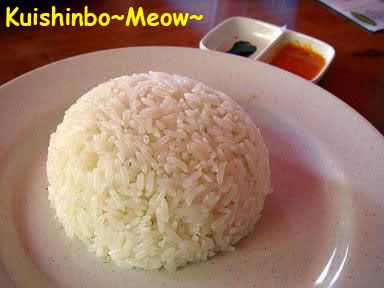 Among all, I think I like the chicken rice the best. You can see the rice was nicely cooked, soft yet each rice grain was presented in its greatest shape. Not overcook. The rice also not greasy as other typical chicken rice, fish fish could easily eat 2 big plate of this alone though I didn't. :P
So, if you are looking for a nice place with good hygiene for a plate of chicken rice, why don't you try Chicking Eating House next time? ;)