Climb to the oldest temple
Last week, I went to look for my diving instructor, Edward. We were having breakfast. Then, I was saying my intention to climb Mount Santubong and was asking him when could he bring me there.
"How about today?"
He replied.
"Are you kidding??"
He must have been joking.
"Nope. I mean it. Let's go climbing."
Man~~~ he is really temptating my adrenaline to run wild.
So, I drove him back home to get his things and I went home to take mine, then off 2 of us to do some nice sweating.
Oh well, we didn't really go to Mount Santubong, as it was quite late to do a good climbing there.
Instead, he led me into another entrance to Mount Matang, which I never know the existance of this entrance.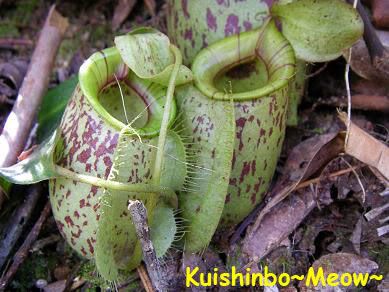 We saw nice pitcher plant along the path.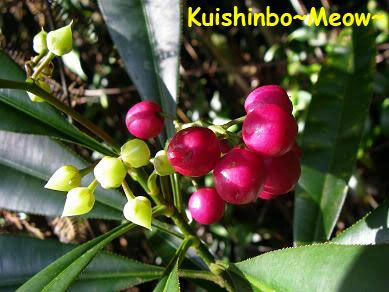 We spotted some nice wild berries growing in the hidden bush.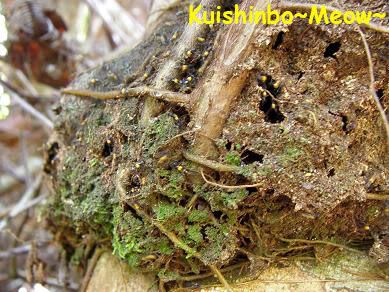 We also nearly attacked by these eerie looking ants.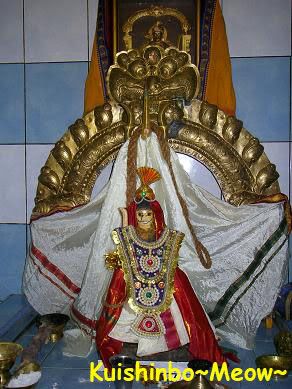 After nearly 30 min of steady pace of walking in the jungle, we reached the entrance to our destiny. From here, it was another 5 min walk.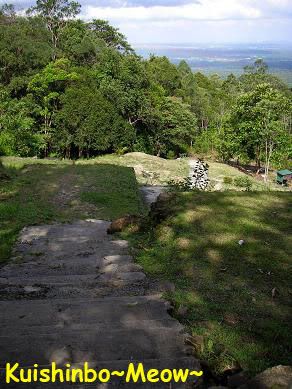 Finally, we climbed this long stair.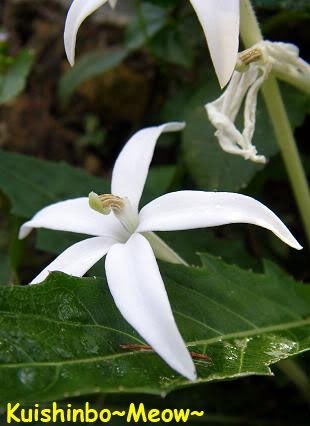 There were beautiful white flowers blooming here and there along the stair.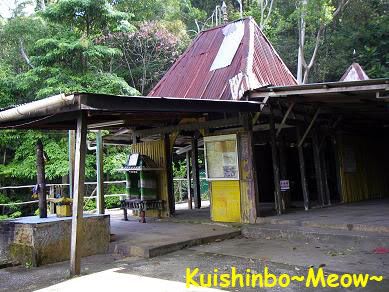 The stair led me to a building I never knew, it is known as the oldest Indian Temple in Sarawak.
Here are the brief history I quoted from the notice board in this temple. It gives you a brief idea how this temple exist in this uphill today.
'Brief History'
Some 2000 feet up, the site chosen as the slopes of Gunung Serapi provided ideal terrain for tea growing and setting of a hill retreat for the Second Rajah of Sarawak.
The Rajah then allowed the entry of Indian plantation workers to be employed at the tea plantation. It is estimated that close to 1000 Indian workers were engaged when the plantation were thriving. British were known to be tea lovers who maintained their social habits in the colonies. The tea plantation were also of particular interest because they helped support an aristocratic British social life and lifestyle on the hill, where Rajah Charles had built a bungalow within the tea estate for him and Rani named "Vallembrosa".
One of the buildings at the tea and coffee plantation which has remained more or less intact after more than 90 years was a Hindu temple built by Indian plantation workers and was dedicated to to the Goddess Sri Maha Mariamman.
The temple was the earliest known Hindu shrine in Sarawak and was rediscovered in 1967, after being abandoned by the Indian workers since the tea plantation were closed in 1912. It was over grown with trees and creepers. Since 1967, for last 40 over years efforts have been made by the Hindu Communities in Kuching to maintain the sacred shrine, its surrounding and the road leading to the temple.
Tee hee hee... I hope I give a good history lesson for you today. ;) Though I never really like history (maybe because I never had a good history teacher), but I am really enjoying reading this brief introduction. Especially when I was in the place, and while walking around, my mine tend to fly back to the time when this temple was full of people coming and going...
Today, there is a proper nice natural path to go up to this temple as there were many people came up here to get numbers and they won. So, as a sign of giving thank, these people build a proper path for it.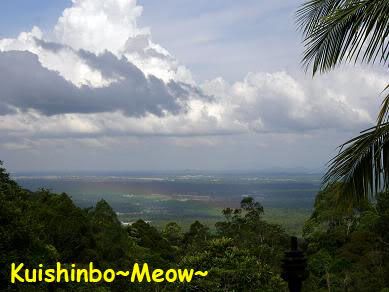 Another thing worth to go, you get to have a very good view of Matang area from here. It gave me a peaceful moment to calm my mind and heal my body after a good sweat.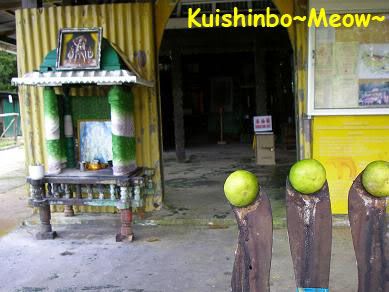 This is the main entrance into the old temple.
You will see 3 gods inside. One is not revealed here, which was covered by the green curtain.
According to Edward, the god behind the green curtain only will be shown in festive days.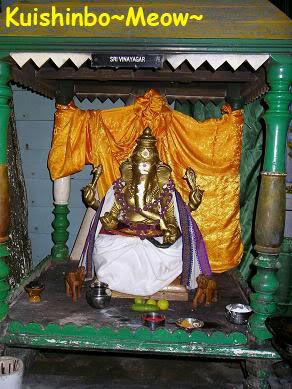 This is a clearer view of the god on its left. The elephant god?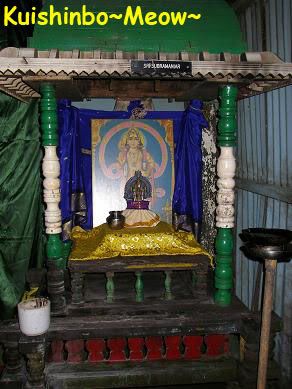 This is the one on the right. I am not sure about what god it is though.
I am not familiar with Indian gods. Maybe someone would like to give me a good lesson here. ;)
We went outside the main building, to the inner part of the compound.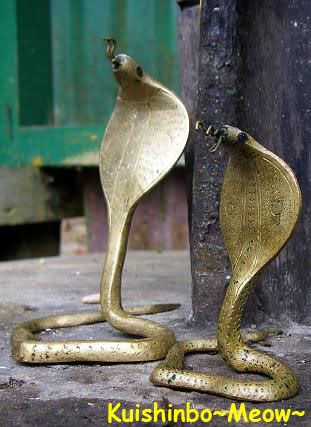 We saw 2 golden snakes on another small hut.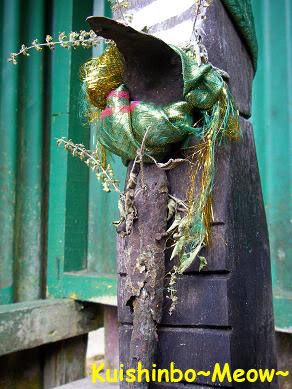 These snakes were standing still under this Snake God. This was seem to be a very old one. I wonder how long have it been there. Edward was saying it used to be snakes coming here, but nowadays, it is very rare to spot one.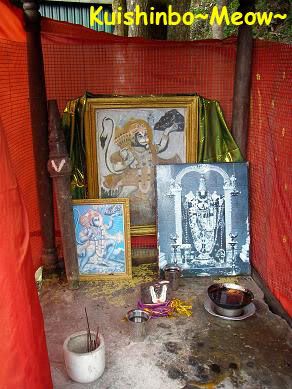 This picture was taken by Edward when I was having my hysterical moment.
I was very eager to have a nature call. There were a row of toilets available there. I chose one, very dark, but I decided to close the door. The moment I moved the door, there were 5 rats suddenly running through me into the dark.
"Wahhhhhhh!!!!!"
I screamed out really loud. Edward was shocked. But fish fish was even more shocking.
"What happened??"
Edward rushed to me.
"RATS!!!!"
One word I said.
It took me about mins to calm myself before I decided to go into the toilet again.
"Edward, I'm not going to shut the door. Make sure you don't peep!!"
That was how I had an eerie experience for a simple water releasing from my body.
Gosh!!! I think I must have look like a popping up puffer fish. Even thinking about it now, it made my goosebumps up.
Oh well, that definitely made my trip to this oldest temple an even more memoriable one. ;)
Now, would you like to have a visit to this oldest temple in Sarawak too? Not for the numbers, ok?