Magenta
:P I've been very busy with ourdoor activities lately. Yesterday was one of those very impromptu one. I'll talk more about it in my next post. ;)
Today, I want to introduce a more classic restaurant for a good dinner.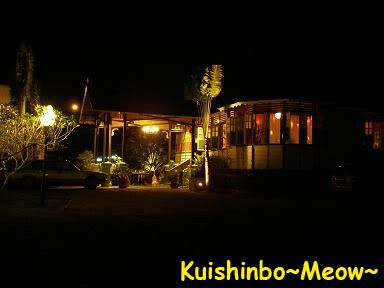 It used to be a government house. Few years ago, it was turned into a housing style restaurant.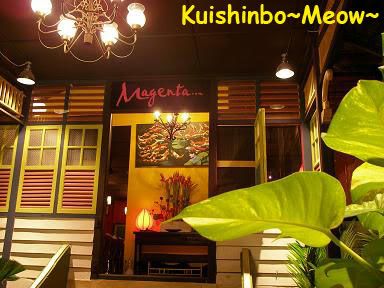 It has a lovely name... Magenta.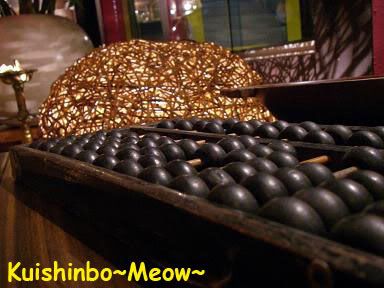 The little things that they used to decorate the place were a pleasure view.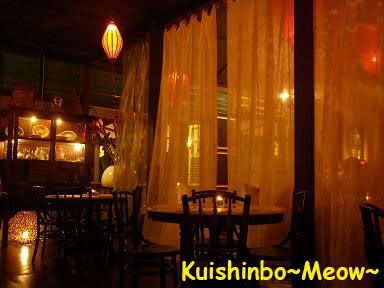 I love the semi-transparent curtain that made margin for 3 rooms. Each room tend to have slight different in the theme.
It was quite a crowded night. I was with Wena for a nice and relaxing dinner.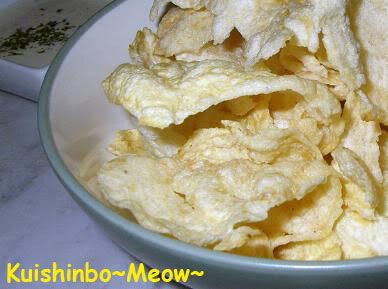 We were served bitter gourd cracker as a before meal nibble.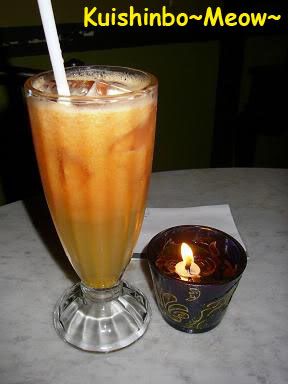 Both of us ordered Revitalizing. A mixture of mango, pineapple, papaya and lemon juice. Sweet but with a good fragrant of citrus. I like it, but Wena think it was too sweet. RM7 per glass.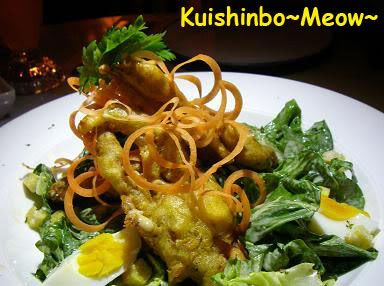 We decided to order 2 salads, without realising how big the portion can be. I wanted to try soft shell crab, as I never had one before. So we chose Magenta's caesar salad. It was a good choice, although the dressing tend to be over-bland. But I did enjoy the soft shell crab a lot. Wena was very kind to let me ate 2 of them. :P Now, anyone know place for good soft shell crab in Kuching? I would love to try more.
One for RM19.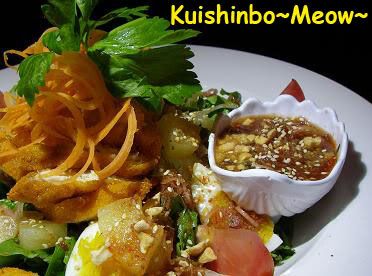 The 2nd salad was an Oriental salad, with spicy Thai dressing. It was RM 17 per plate. Sorry for this one, as I didn't prefer the "unique" taste of the sauce that was used. If you like Thai food, this might be a good choice. But as the portion was big, and there were only 2 of us, we only finished 1/3 of this plate.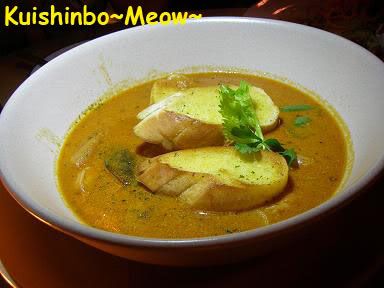 We stopped our main dish for a while before we finished the earlier 2.
Eventually, it was a right time for the main dish to be served. We ordered a seafood bouillabaisse.
Gosh!!! It was such a big bowl for the 2 of us. We should have just ordered 1 salad only. One of this for RM 39. It was our second choice as our 1st choice was sold out. Too bad.
I would say the price was quite ok for the big portion of it.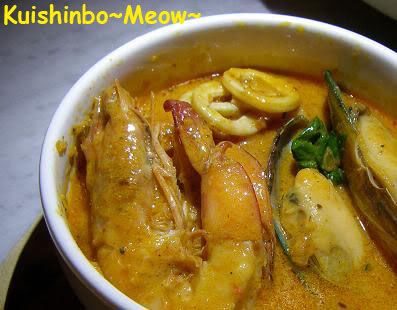 It had a generous portion of seafoods inside.
I love the broth. The Martini gave a very nice touch to the whole broth. It went very well with the garlic bread. Wena said milk must have been added to provide the creamy texture.
However, about the seafoods, I couldn't say the same. I guessed these seafoods were mostly frozen. The prawn texture was too powdery. The mussel was ok, but didn't have the juicy bite. Some of the mussel even quite stale. The squid was nice though, the freshest among the three.
I guess I was enjoying the broth so much that once again, Wena had only 1 slice of garlic bread and fish fish had two. Dip dip into the broth, munch munch in the mouth, warm wamr in the stomach. :P
Yah, it was a lovely night out. I said to myself, put the diet till other day then. Tee hee hee...
Magenta, a good place for dining, in term of ambience. It would be much much better if they dare to use fresher ingredients for the cooking. I like the taste. Yes, I would definitely go back again to try other dishes. They need to hire more staffs for a busy dinner night. The poor boys, it was surely a hectic night for them that day.
Tata~~~