A mini meeting with bloggers
Another 3 more weeks and one of my close cousin will fly to KL to start her study. 3 months in KL, then 7 years in France, with JPA scolarship. Oolala~~~ that means fish fish can have free place to stay in France in future. Yippie!!! *Wait! Need to get enough saving first* -__-""" *Wake up!!*
Anyway, I had a great day out last week with a few bloggers. It was a sudden decision. :P
I met
Wena
,
miracle8
,
Wilson
and
Kristopher
's whole family. We all met Kristopher for the 1st time except Wilson.
Click here for
miracle8's report
and
Kristopher's report
. Err... Wena actually blogged about it too, but it was a non-blogging day for her, so no picture. :P
We met at Song Kheng Hai hawker stalls car park, they were all very punctual. Then we headed to Lao Lee coffee shop for my 1st experience on...
Fish Head Bihun. The other 3 ordered Fish Flesh Bihun, only fish fish want to have a try on the hard-to-deal head. The bihun was ok, quite different from the one I have seen in KL.
All the time, Jessie was hugging her little Natasha walking around. She is just a month older than my little Annabel at home. Hohoho... they will become good friends.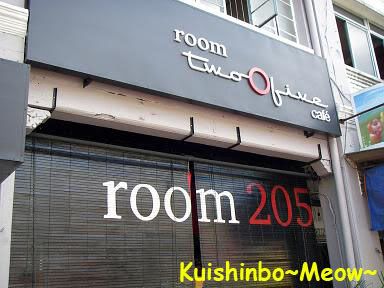 Then we headed to room 205, it was named in such way due to the shop lot is number 205. Cool~~~ I like it.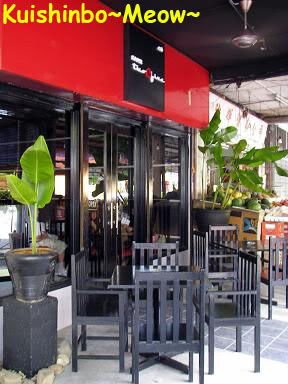 It has a very nice front entrance.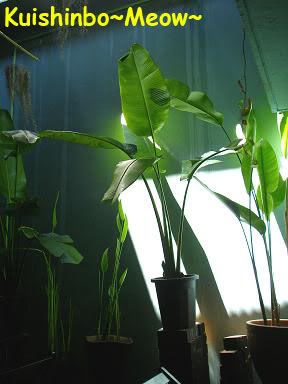 At the back, the tropical plant give a different touch to the interior feeling. I actually like it, just that it was a smoking area, so we chose to sit in the darker front area.
We didn't try the food though, we wanted dessert, but the dessert was only offered after 5pm. *sigh*
Wilson has a glass of chocolate shake, which I was going to order... (the picture was taken nicely owed to Wena's handphone light) :P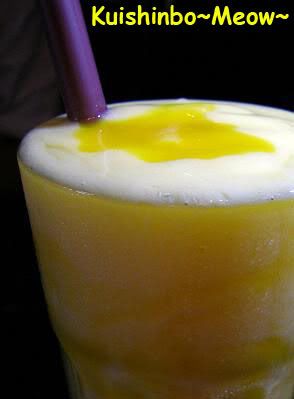 However, the staff strongly recommended me their mango smoothies.
It was smooth, it was cooling, but it was lacked of the true mango fragrant that I was looking for.
Until this point, Natasha was into her margin line to be outside of her home sweet home. She wanted to go home. So, Kristopher had to say bye bye to us for his little princess to have her nice nap.
Bye bye Natasha~~~ Hope to see you again, sweetie. I want to introduce Annabel to you. Hohoho~~~
Guess what? The bloggers' meet didn't end just here.
Except for Wilson that was bloated with the food inside his stomach, the other 3 of us headed to the 3rd place.
Man~~~ 1st time a bloggers' meet we went to three places for food. Ha!!! It was fun.
We headed to
Aha Cafe
. It is Wena favorite cafe too. Yeah!
It was a bad idea to have 3 girls blocked together... because the temptation to have good food will spreaded to all at once.
So, we decided to have another sin, for a tea time, we had something rich. *eh hem*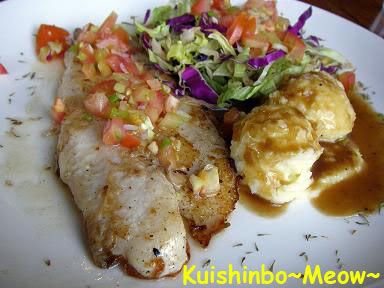 Miracle8 had a nice plate of dory fillet.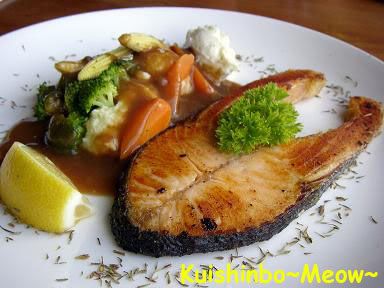 Wena prefered a plate of grilled salmon.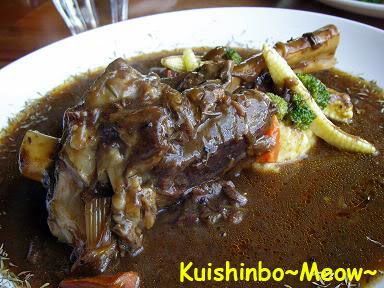 While fish fish was so tempted by the look of this salivating lamb shank.
Oh man~~~ It was good. Could have been better if the mutton was softer and the sauce was milder. The sauce were too salty. Too much salt tend to spoil the original umami of the meat. Still, I finished whole of it. Tee hee hee...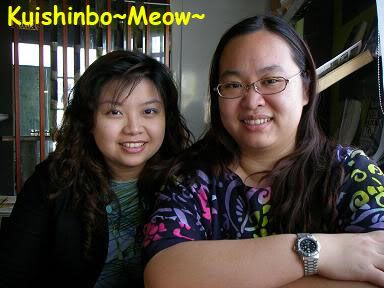 Oh, I like these 2 ladies. They made my day by spending good time on having nice girls' talk. Heeeee...
Thanks a lot girls.
Thanks Wena for the treat. Next time must on me. ;)