The natural faces
Ever since my daddy retired, one of his most enjoyable moment is to spend time with his two grandchildren.
Little Annabel is still too young to be spoilt by her Gong Gong. However, my little nephew is coming to the 19th months, meaning there are more and more things he can do it together with his grandpa.
One of it is.... EATING!! *of course*
So, one hot afternoon, he went into my father office to have some cool air.
"Ah Gong~~~"
The way he pronounces this word is always full of emotion inside. Easily melt his Ah Gong's heart away.
"Bao Bao!!"
He ordered his Ah Gong to hug him.
Now, that is an essential steps for him to get the real thing behind.
He pointed to the opposite direction... looked at his Ah Gong with a sweet but planned smile...
"Mum mum!!"
This little boy talks in a different pitch with his daddy and Ah Gong, because he knows there 2 people spoil him the most.
I didn't see anything that can be eaten at the direction he pointed to, but he was very sure the precious was kept there.
So, daddy asked me to open the cabinet behind...
Ah yes... sure there was.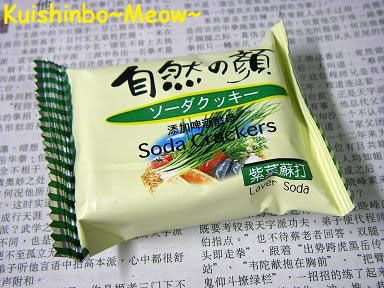 The NATURAL FACE soda crackers.
So, his Ah Gong opened one small pack, shared among them.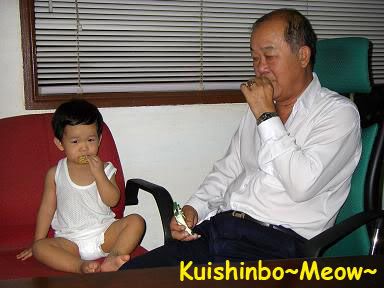 Yum Yum~~~ Ah Gong one piece, Cheng Cheng one piece.
In a very short while, they finished 3 packs together.
It was a moment full of laughter.
It was the 1st time I saw my daddy actually enjoying a pack of simple soda cracker to full.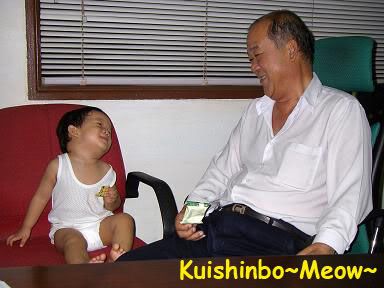 3 packs of soda cracker - Very cheap.
Moment they spent together - Priceless.