Fish Fish 1st Rainforest World Music Festival 2006
All these years, I had no chance to join
Rainforest World Music Festival
as I was never in Kuching when the event was on.
However, last Friday, I finally went.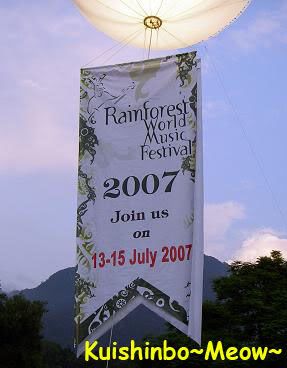 We were blocked to stop our car at Santubong Resort and need to take a shuttle van to the event. It cost RM5 for a round trip. Hmmm... for an entrance ticket RM60, I would think a shuttle service that cost us RM5 is somewhat overcharged.
As far as I experienced, the shows that I went that had a shuttle service were all for free if you have the entrance ticket. Oh well...
Once you entered the main gate, there was a big notice telling you the festival is waiting for you next year, July 13-15.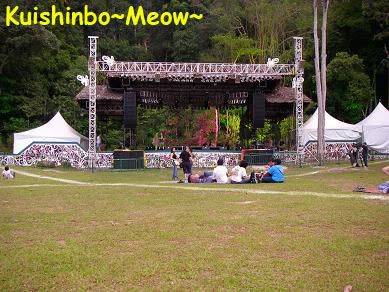 Angeline and me reached quite early, we were there around 6.30pm. The festival was going to start an hour later. The main stage were still very empty with audiences.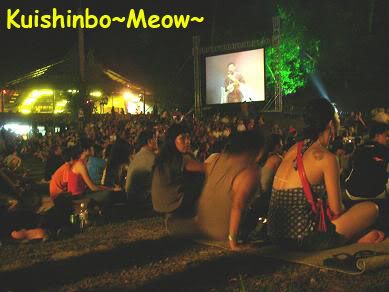 After an hour, the place was getting flooded with crowds, sitting and standing at there preferred location.
We didn't watch the beginning of the show as we went to buy some dinner.
Gosh, for making 2 burgers, it took the staff almost 30 min to get them ready. Even putting on a slice of cheese, it took him about 3 min.
It was not surprising that one of the foreigner visitor was so angry and decided to cancel his order.
Hmmm... this is a really bad image for promoting our Kuching's tourism.
Well, if you want to hold an international standard event, shouldn't all these details be taken into account as well?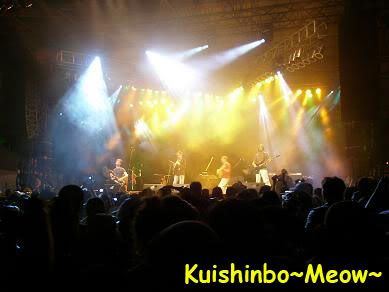 Still, people enjoyed the music shows. Some of the performances were good. However, some was not fish fish's cup of tea.
The lightning of the main stage was not bad.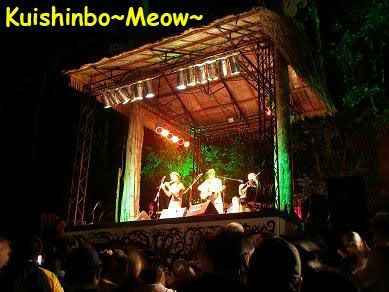 Unfortunately, the 2nd stage sound system was bad. It really spoilt the good music. The performers have to stop their music to get the sound system fixed before they could continue.
I hope the Saturday and Sunday performances were much better than the Friday one, without all these irritating technical problem occured.
The weather was not too pretty that early night. It was raining heavily. Audiences have to avoid the rain in some sheltered area.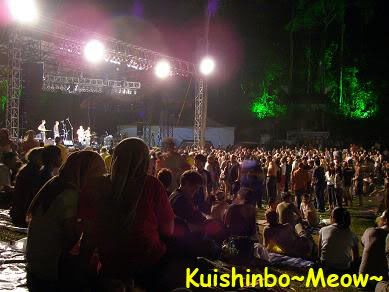 Luckily, after about 2 hours later, the weather turned good. Yes, that was the starting of the real time to enjoy the moment.
Yeah, it was a big crowd now. People were moving and shaking under the stage. This was ok.
However, I couldn't have the same view on some of the action of some audiences. The performers were doing their best to give a good show, sadly, these audiences were making irritating sound to spoil the music.

"We want Raggae!! We want Raggae!!"
When the performers were playing some of their origin's music.
Making nasty sound when the music was playing nicely on the stage.
Etc…
Well, can't these people give some respect to the performers and audiences that really want to enjoy the moment? Spoilers!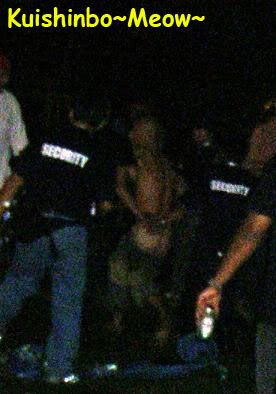 There was even one that too high in mood and decided to get himself nude in the public. Too bad, this guy doesn't know the rule in Malaysia. Even kissing in public can be caught, there is no way you can expose your "private" thingy in public. The funny thing was, the security guards just caught him without even made him wore back his trousers. So, fish fish have the ehhem… "luck" to see his hairy front and smooth back clearly. Ouch, so skinny.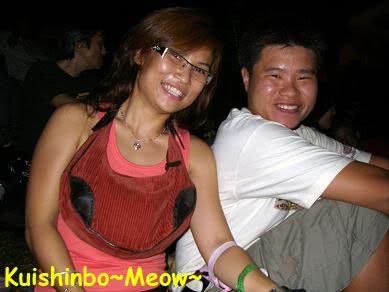 Well, it was a nice time to be with my diving buddies. Angeline (right), Ah Lek (left), Kim Leng and Ah Hui. Angeline was too tired holding her little bag on her hand. She decided to hang it to her neck.
Tee hee hee… she called it "my big boobs".
Actually, I planned to go on Sunday as well, but I was sick after my wrong deep sea divings. Geee... I vomitted heavily for 3 times that day, so instead of heading to the rainforest after that, Kim Leng decided to drive me home to have a good rest. Really sorry girls, because of me, you all cancelled to go to the Rainforest. So touched.
I promise, we will go together again next time. Hopefully my next Rainforest will be a much better one.