Happy Birthday, Malaysia!
It is only 6.30pm now, but I am very very sleepy. Gosh~~~ must have been the very late sleep last night and a very busy morning and noon today. Hmm... once my rice has cooked, I'll go for a good bath and Zzzzzzzz...
It is Hari Merdeka in Malaysia today. How is the morning? Lovely?
I missed the celebration for the 6th year. This year, Kuching is the city that hold the national level celebration. Well, no chance to witness the real one, not even on a TV.
However, I did have a few mins peep on its rehearsal.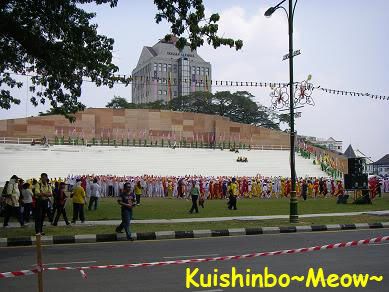 Colourful?
The yet to be completed stage...
The hundreds of school children rushing to rehearse for a better performance under the sun that can grill human into BBQ homo sapiens.
I was passing by...
Even standing there for a few minutes was causing my migraine occured again.
Hope the celebration will be a nice one.
Happy Birthday, dear Malaysia.
I love you.