I saw Brunei again!
I was in Brunei 7 years ago, after my Mulu trip, with another 4 friends. The trip was full of planning.
This time, it was totally an impromptu decision. Mom bought the ticket for me one week before the depature.
So, I carried one luggage, and off I went to Brunei alone.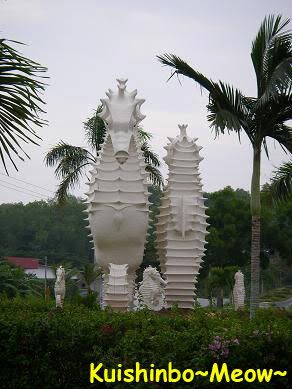 My flight stopped at Miri Airport. You can see quite a number of seahorses decorating the city.
Uncle came to fetch me all the way from Brunei.
We went to Boulevard for having dinner.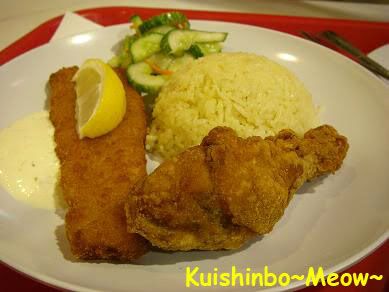 Heee... it was Sugarbun!! It has been 11 years since the last time I had a proper meal in Sugarbun. Well, the chicken tasted good, too bad it was not the freshly fried hotness. Hmmm... Need a good quality control on this.
Then with around 2 hr car trip, we finally reached my uncle's place at night.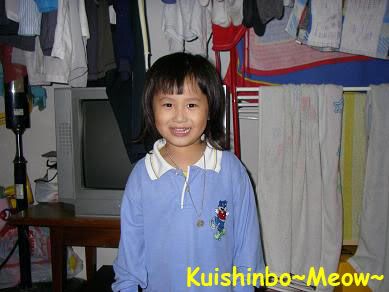 Oh, meet the little Isabelle!! She was quite shy the 1st time she saw me. Gosh~ the last time I saw her, she was only 1 year old. Now, she has turning into a stunning 2.5 year old sweetie.
Haha... but she turned into little devil the next day after she is more familiar with me. You should see how clever and naughty she is.
I stayed in Brunei for 4 days 3 nights. Instead of doing all the tourist thing, I spent my time in a more relaxing way with my uncle's family. That was the main reason why I was there. Still, I did take a number of photos to do the tourist thingy. :P
Here are the few selected.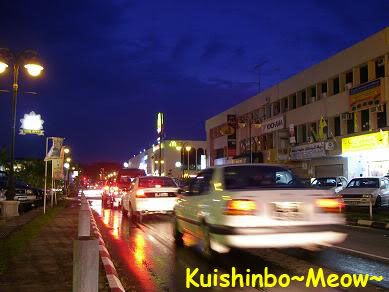 The most happening place in Brunei - Gadong. Very jam with traffic like any other busy center of city. The only difference is, you will not see any night pubs or places for disco.
Now, that will tell you how quiet Brunei night life is.
There are quite a lot of restaurants for you to indulge your hunger though. Some were good, so were just so so. Good hygiene condition. But most of them have big portion if compared to Kuching. Uncle was trying hard to bring me to places with good foods as he knows I am very particular on this. :P
There were a few I especially like.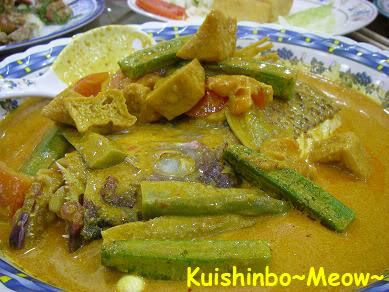 A very fresh curry fish head. Can you see the glittering eye of the fish?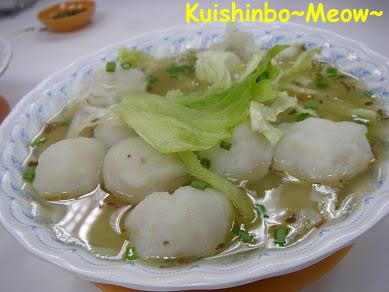 One of the nicest fishball I had in Brunei. The elastic bites on these hand-made fish balls told you the good ingredients that were applied on these balls. Yes, good food can never skip the utilization of nice raw materials huh.
Yum Yum!!! 2 thumbs up for this.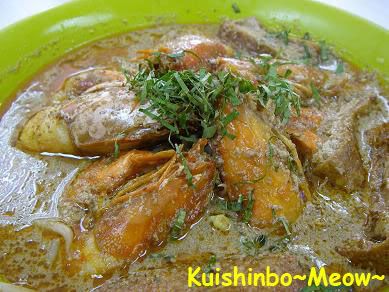 A very disappointing nice bowl of Singapore style big prawn noodle.
The prawn was very fresh and was cooked to the right hardness.
Too bad, the cilantro spoilt the whole bowl. I had to put up my white flag after a few chomps on this nice bowl of laksa. If only I told the owner earlier. *iish*
Yes, I am very cilantrophobia.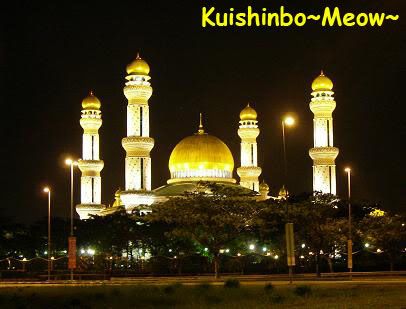 The biggest mosque in Brunei definitely is a gorgeous view at night. The gold color shining bright even from far.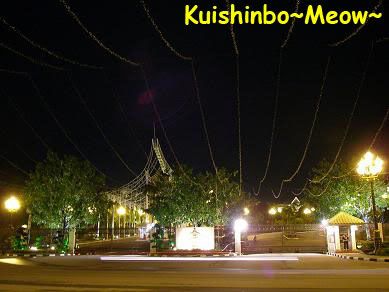 I missed the chance to witness the great celebration on the Brunei's Sultan's 60 Birthday as I went to Sipadan that time. No more splendid lightings to enjoy anymore, though you can still see the sign of lamps hanging everywhere, especially in front of the Sultan's Palace.
However, even after the celebration, there were still banners wishing the Sultan's birthday.
Aunt told me it was the best firework performance for the celebration. They hired specialists from Japan to play the firework. No wonder. Well, if you have seen firework in Japan, you will be able to imagine how superb the firework must have been.
Ah~~~ I miss firework. *sigh*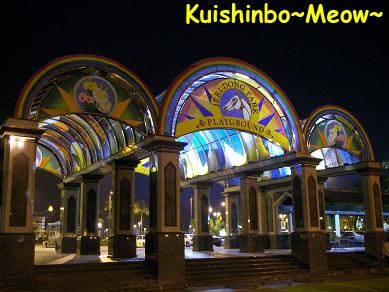 We went to Jerudong Park one of the night. Jerudong Park used to be a great place for having exciting rides. But since it has been handed to the private section, the management quality of the park going down continuously.
It was quite sad to see how Jerudong Park has turning into nowadays. Gone those exciting moments I had in Jerudong Park into my deep silent memories.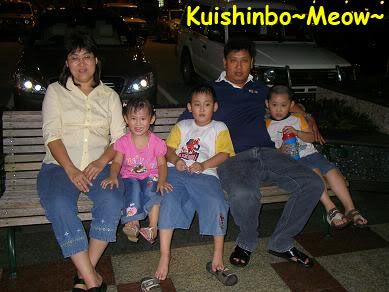 Well, at least I spent some quality time with my uncle whole family regardless of the shock that Jerudong Park attacked me.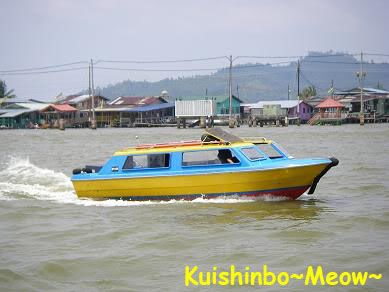 At least, the village on the water is still a great view. It was fun to see how busy those water taxi forth and back to commute villagers to the city area.
Brunei is a calm and nice country. However, it is definitely too quiet for me. It was a nice trip for fish fish to rest herself. In fact, I was having a lot of sleep when I was there. I guess it was because I was very relax when I was there.
Thank you sooooo much, uncle, aunt and my little cousins. I will miss you all. See you the next time we meet. Ok, I don't know when, but we will sure meet again.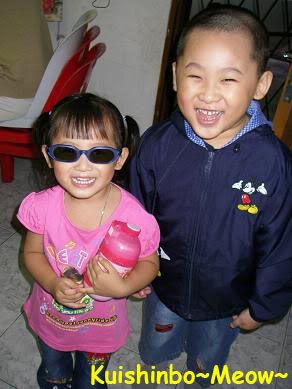 Oo la la~~~ by that time, these 2 will really grow up even more.
Muakkkkkk...