Cheese~ Oh! Cheese~
There was a mysterious note on the refrigerator few days ago.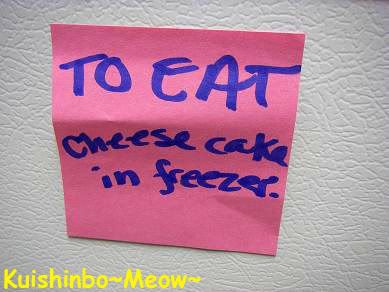 "To eat. Cheese cake in freezer."
No name nor date when this note was on.
I opened the freezer and there was a nice big blueberry cheesecake inside with a small slice that was already missing.
Hmmm... looking good, looking fresh.
So, I cut 1 slice for myself.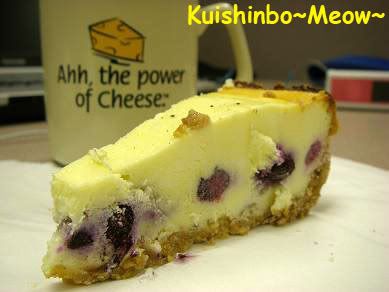 Ahhhh~~~ the power of cheese. It did cheese up my day.
Then, I was trying to search for the source so that I could say thank you.
Interestingly, everyone was thinking it was someone else that made it.
Neither of us guessed her, as we didn't see her in the workplace at all.
Until yesterday...
The mystery was finally solved. It was actually Paula that made the cheesecake for us.
How sweet!!!
By the time we knew that, the cheesecake only left a small cut in the freezer. :P
Thank you Paula, it was a great one. We love it.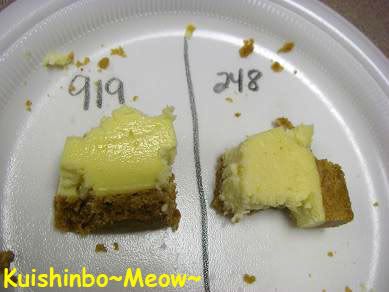 Then this morning, I received one email in my mailbox. Staff in another department was calling for people to do sensory test for their cheesecake.
Mmm~~~ cheese cake sensory? Sound good.
So, I went and did the test.
Amazing to see the portion of the cheesecake that I was given for a simple sensory evaluation. It was more than enough to be a good breakfast!
Both were good.
919 was milky creamy.
248 was soft and more salty.
I prefer cheese with a nice touch of saltiness in it. So, my choice was 248.
How about you? Milky? Salty?
Tomorrow will be another sensory evaluation on milk! Tee hee hee... it is definitely a fun thing to do sensory evaluation on good food. ;)