FF's Homemade Tofu lasagna
This coming Monday is a Labor day in US, so we have 3-day holidays. ^_^ (Geee... I am having my 3-day off after 1st day of official working day. :P)
I was having only US$23 in my wallet from Friday's evening. Yesterday, after shopping for groceries, I only left US$9. It was a good experience to shop in Asia Market. Geeee... so many customers and staffs were speaking Mandarin, making me wondering if I am really in US. :P I even heard a few people speaking Japanese. Hmm... I need to survive until Tuesday with the US$9 before my ATM card reach me.
I bought 2 packs of tofu from there. I want the nutrition from tofu, however I don't want the normal tofu in my soup thing.
This morning I came up with an idea how to made my tofu dish colourful.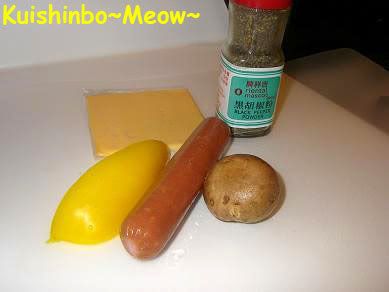 I've been complaining food in US tend to be too salty for me. Therefore, I decided to use the salty cheese and wiener for my new challenging menu. The other ingredient that I was using were 1 baby portabella mushroom, 1/4 slice of yellow capsicum and a small pinch of coarsely ground black pepper.
I get a beautiful piece of square firm tofu and cut them horizontally into 3 flat sheets. Put into the microwave to heat for 20 second. Drained off accessive liquid from the tofu by pressing them lightly without disrupting the shape of these tofu sheets.
Heee.... yes, I am using tofu as my "lasagna" pasta instead of a real one.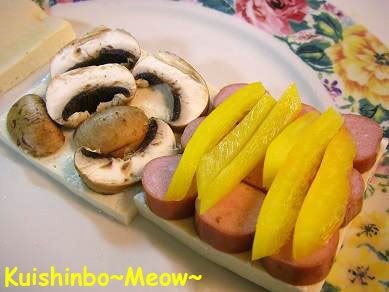 For the bottom layer, I am putting sliced wiener and yellow capsicum.
I arranged cut portabella mushroom on the 2nd layer.
Then, stacked the whole thing to microwave for 45 seconds.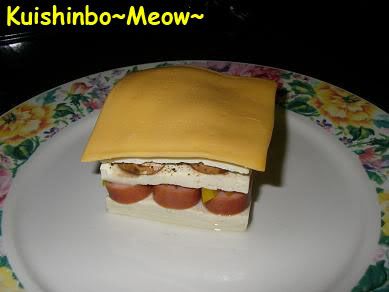 Then, I put the cheese on the top layer before baked this tofu lasagna in oven for 5 min.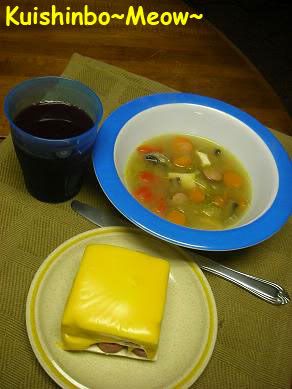 Tralala~~~ my beautiful brunch!!! was ready to eat.
A glass of mixed grape and grapefruit juice for the vitamin and polyphenols.
A bowl of chicken breast chunk and vege soup for protein, fibre and vitamins.
The tofu lasagna is the main dish of the brunch. The tofu provided protein, vitamins and isoflavones for my body.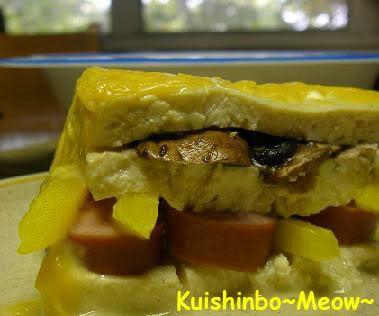 :P I supposed the cross section on this lasagna looking ok?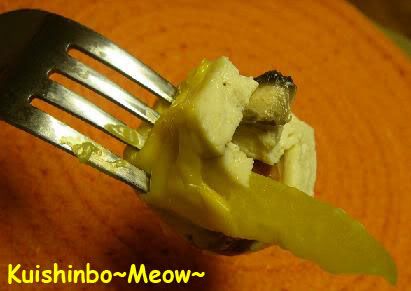 How was the first bite? It was surprisingly acceptable. In fact, I would say good. The combination matched well. The "Western cheese" and "Asian cheese" managed to give each other a blend that gave a good harmony for the taste. The salty wiener tasted just right to give flavour to the tasteless tofu.
I'm loving it.
Easy to prepare.
Nutritious.
Yummy.
I am going to make other versions of tofu lasagna again in future.
Any idea for the healthy ingredient I can use? ;)
Till then. Tata~~~