Nori Nattofu
Ever since I came to US, I have been catching up slowly with the blogsphere happenings. It is one of the enjoyable things I like to do at night.
I've been a very good girl in my work place. I don't do any extra thing on internet except checking emails and reading online news during my lunch time. Yah~~~ I'm working now, need to act like a responsible working lady. :P
Read some fun things just now, that made me think. Let me ask you, are you a person who will only buy an expensive thing you like with your own ability (your own saving) or are you going to borrow money to buy first then worry later?
I am belonging to the earlier. I will only think about owning some expensive thing when I have the $$$ in the bank. Owing people money can make me sleepless.
Ok, back to my blogging for the day.
After my tofu lasagna, I decided to go something more oriental for my diet food.
There I was to use tofu as my main ingredient again.
This time, I boiled it for a while.
Then, I just smashed it into some coarse chunck.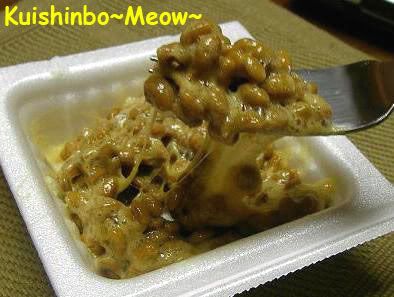 I have been craving for natto. So it didn't matter that this pack of natto gonna cost the same as 5 packs of natto that I could get in Japan, I bought it (Have to buy in 3 packs, urgh!)
If anyone of you never tried natto... natto is just like a durian. You hate the smell for the 1st time. You kinda ok with the taste the 2nd time. And by the 3rd time, you will fall in love with the slimy texture and the taste when you mixed it with mustard and soy sauce.
So, I stir and stir and stir until the whole thing have nice amount of white slimy network.
The next thing... mix well the 2 soybean products. Man~~~ they look so different even though they were from the same mother.
Too dull???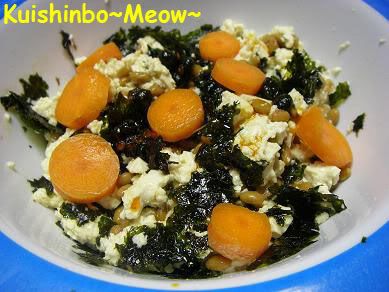 How about some crashed Korean nori and slices of fresh carrot for adding the different textures and taste?
I also added some spicy black bean chili paste for some spiciness.
Man~~~ it was totally healthy yet so yummy. It is very high in protein, fibre and vitamin, yet very low in fat and calories. It is a very cheap bowl of dish, and very filling!!
Just imagine the combination of crunchy carrot and crispy nori with the soft tofu and slimy natto. I just couldn't help myself but kept kissing with those slimy beans, oh... I really miss you, my slimy beans!!! It was definitely a good kiss. Yum~~~ Yum~~
You might be sceptical whether I am telling the truth. Why don't you try to kiss the natto? ;)
Tata~~~