Officially 1st day working...
Finally, I am officially a working person. Geeee... couldn't believe I eventually get away from being tagged as a student. *wipe cold sweat*
The bad thing was, I slept at 3am in the morning before my 1st working morning. Gosh~~~ I am really 200% regret on that. I should have slept much much earlier. I crawled up before 7am to get ready.
The good thing was, I went to work punctually at 8am. It was heavy wind and quite cold for a summer morning. Luckily, I followed my colleague's to the place as she just stayed one building away from me. Thanks dear, that was a big help.
I nearly bumped into the wall today as I was half concious with not enough sleep. *another wipe cold sweat* Geee... imagine if I walked blur blur on the road, what would I bump into. *shudder*
Apart from that, I think my day was not bad. In fact it was turning better... although I am still very blur blur now. Need to attend a neighbourhood meeting at 7pm later. Gosh... I will sure fall asleep. Oh well, if really cannot endure it, will just come home early to zzzzz then.
Ok ok... let me show off a little bit here. :P
I have a nice boss.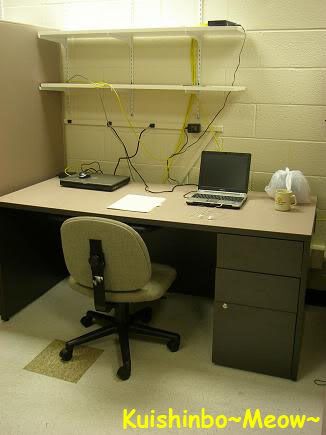 He gave me a nice working desk with amper space for me to mess up with my things. *geee... meaning I have to work hard from now on* A personal computer with high speed internet. I was bringing my own notebook too today for listening to songs while do my materials reading.
I love my desk. So easy to concetrate as I am separated from my colleagues by a thin wall. You will have more privacy. On my right is a pretty girl from China, and on my left is a lovely lady from Thailand. *myak* Where are the handsome guys??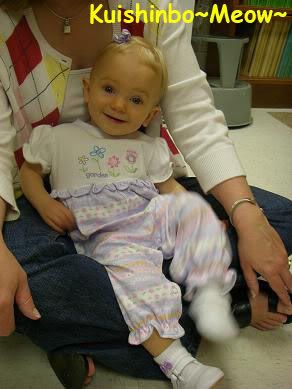 I even got a very cute little visitor who is going to be 1 yo in another 2 weeks. Gosh~ aren't she adorable. Poor little thing, kept havng her running nose. But that didn't stop her from crawling around. She was amazingly fast.
She loves to sit on her mommy's lap.
Isabelle... Heee, same name as my youngest cousin.
In fact, this wasn't the 1st time I met with her. I met her for the 1st time when she was still in the mommy's stomach last year.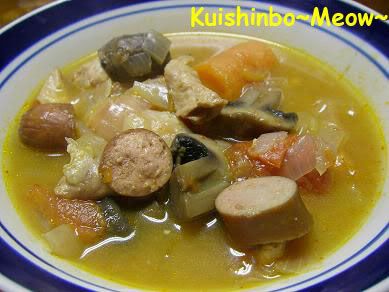 The night before, I cooked some nice and healthy soup. I used only miso paste and kimchi sauce for the seasoning.
Basically, I had this soup as my lunch with a nice bowl of brown rice porridge. I am starting my healthy meals for a few days now. Yes, I need to use 1 year to get rid of the extra 20kgs on my body now. -_-"""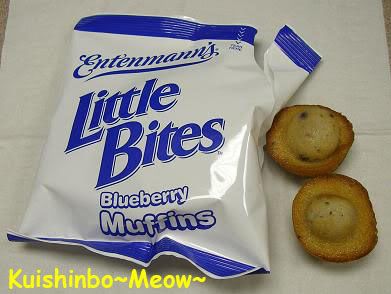 However, I think I used too much brain today. My stomach was grumbling at around 4pm. So, I grabbed one of this from the common desk. It was definitely a great pack of mini muffin. So soft, so cute. Just the right size for 1 bite. I had three. *tsk tsk tsk* Surprisingly, this muffins are good. It was high quality for an instant muffin, apart from too sweet.
Doing my work while having this yummilicious for my tea time is definitely a very enjoyable moment.
Man~~~ that really made the ending of my day of working a much better one.
Oh yes, I do hope my working will be something like today... tough in the beginning but getting sweeter in the end.
Oo la la~~~ I am officially earning my own expenses today, no more hand long long get money from my parents. Without their support for these few months, really don't know how I will survive. Thanks dad, thanks mom. Muak!!!
You know what? I just got started my work today, but then I'll be having a 3-day holidays starting from tomorrow. Geeee...
Tata~~~