Chocolate Festival
Times Higher World University Rankings 2006 just announced on Oct 6, 2006. My alma maters are ranked at 29th and 185th. I was having a good time reading blogs in Malaysia talking about the result, especially on the 185th vs 192th.
However, I do feel that this ranking thing cannot be the sole reference for one to choose the university they would like to go. Through my years in universities, my conclusion is - a famous university can have low quality faculty, so do a not-well-known university can have a very famous faculty in the field it is famous with. It is important not to get a university that is famous, but to get a professor that is good to pass his/her knowledge to you.
Getting a great person to guide you is much more meaningful then to go for the name of the university.
During my student period, I never really enrolled into the university because of its fame, but because it offered the thing I wanted to study. I have never regretted on my 2 choices, priceless experience in my life.
I've heard many friends complaining about how terrible their professors are, even from a well-known university. So, make your choice wise. Best to see the professor face to face before you make your decision (Important for your graduate study!). Don't forget, they choose you, you choose them too. ;) It is better to take a short time to be troublesome with your choice first than struggle a long time in a place you do not favour to purchase your degree later.
Ok ok... talk too much. :P Time to show my "chocolate lunch". :P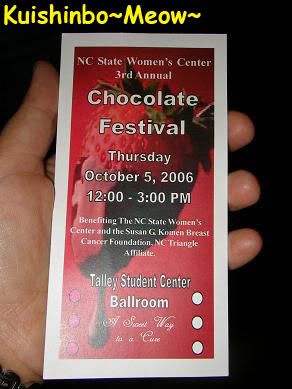 I got a ticket for free (I saved US$8) to attend a Chocolate Festival last Thursday. You could see there were 3 pink dots and 3 white dots, which would allow one to get 6 items for free with the ticket.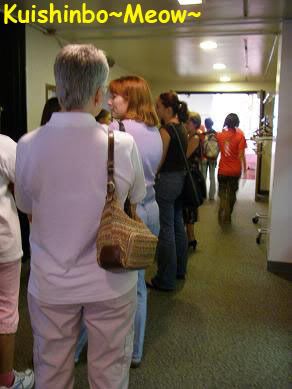 The event was supposed to start at 12pm, but it delayed until 12.15pm to let the people to get in.
There was a long queue. More than 95% were ladies. It was a charity event for Brest Cancer. I spent some time to look through the exhibition about breast cancer before I proceeded to the next session, where the focus of every guest.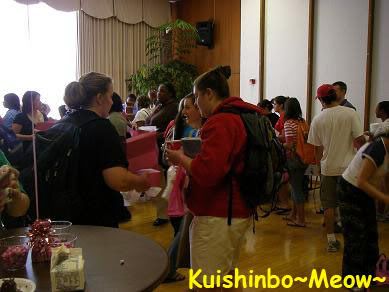 Oh yes, you bet there were many hungry people like fish fish looking for chocoyummy, especially that was the time when we were supposed to have our lunch.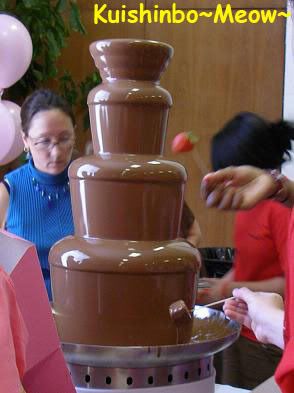 The focus of the day... chocolate fountain. One was the white table and one was the pink table. Actually, 2 offered exactly the same thing.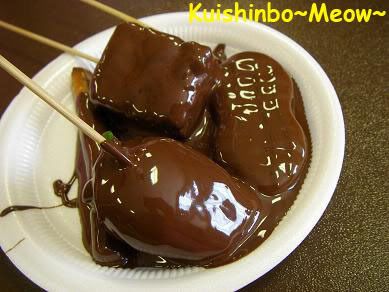 Each person was allowed 4 items for a punch on the dot. I went to the pink table and got one of my pink dot punched.
It was fun to shower my strawberry, pretzel, peanut butter biscuit and mashmallow rice puff with the
chocolate liquor
.
The chocolate liquor was nice. However, it didn't quite match the other items, except for the strawberry.
The strawberry was sour, but when it was served with this rich chocolate liquor, it was a scrumptious combination. Argh~~~ I should have get all 4 strawberries. :P
Well, it was not surprising that strawberries was the fastest item to vanish in the chocolate fountain table.
After I finished the whole plate, I started to hunt for my chocolate again.
I still have 5 remaining spot to punch. 3 whites and 2 pinks.
My pink dots ran out quickly and I had difficulties in getting my 3 white dots fully punched as the white table seemed to offer more inferior product than the pink table.
Seriously, I don't understand why do they have to group them into 2 different colours.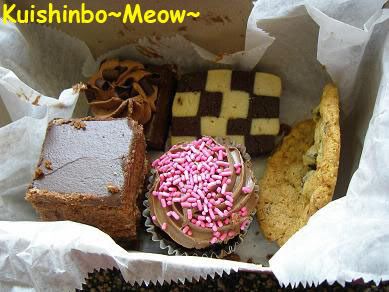 Still, I managed to get my 5 items eventually.
The left 2 were from the pink tables, which I enjoyed the taste.
The right 3 were from the white table. The cup cake was not nice. The chocochips cookies was ok, will be better if it was thicker. The checked cookies was the best among the three white choices.
I only ate 1/5 of the portion in the box. I was really full, especially after drinking a pack of milk and a pack of chocolate milk (which I took mistakenly) to neutralized the chocolate sweetness in my mouth.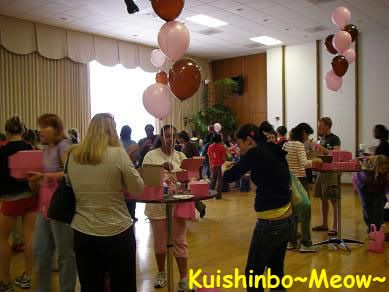 :P By this time, most of the guests were enjoying their chocolate meals like fish fish did.
In case if you don't know, annual chocolate consumption is 12 pounds per person in USA. However, this is defeated by Ireland with their annual consumption 24.7 pounds. o_O
My conclusion is...
The chocolate festival was not to the standard that I have expected. But I was getting the ticket for free, so I am not complaining on anything.
However, if I have to buy the ticket by myself, I might give up the idea to go there again next year.
So, I had chocolate during my Mooncake Festival instead of a proper mooncake. :P
By the way, today after a fun time doing groceries and laundry...
that make my
Remaining for Project October 100 Day 7 = US$ 68.11
Good night. ^_^