A MUST Food for Fair : Jumbo Turkey Leg
In the
NC State Fair 2006
, I had a fun time looking around beside working as an Ice Cream Scooper.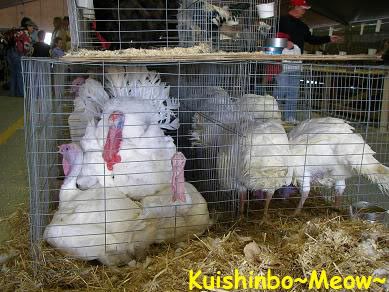 I saw many HUGE turkeys. In case you don't know, NC is the largest poultry production in US, counting both chicken and turkey.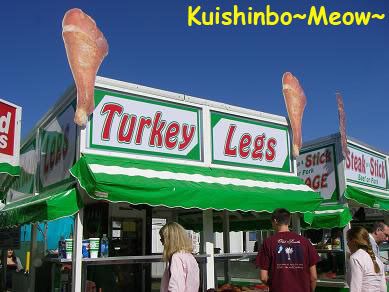 These turkey legs play a great role in a Fair. Stalls selling turkey legs can be seen here and there.
I spotted this stall selling a turkey leg for only US$6, compared to the other stalls that were selling a dollar more expensive. Well, for a month with tight money usage, that 1 dollar meant a lot for fish fish.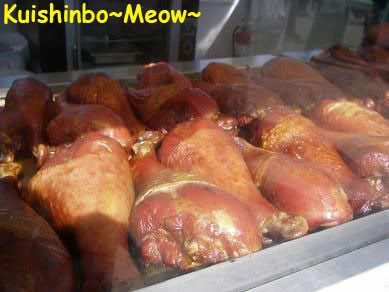 Wah~~~ so many legs.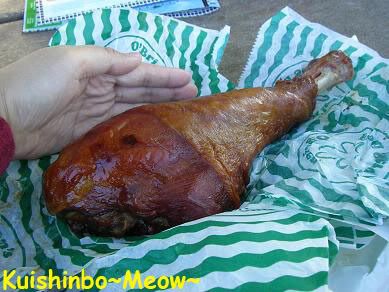 Tralala~~~ my 1st Jumbo Turkey Leg.
It was absolutely JUMBO. I could really feel the heaviness of it when I carried it in my arm.
I found a nice place, sat down and started my great feast.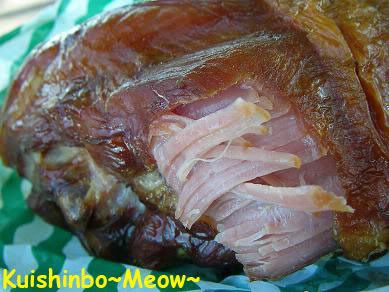 Errrr... my first bite was too salty. I was like... hmm... I shouldn't have bought it.
Then, I tried the second bite.
Buolala~~~ I hooked on it instantly.
The meat was very juicy yet not too chewy. The nice smoky flavour really brought out the characteristic of this leg. Although the outer layer was a bit too salty, the inner part was just great.
This will become my favorite Fair Food, definitely.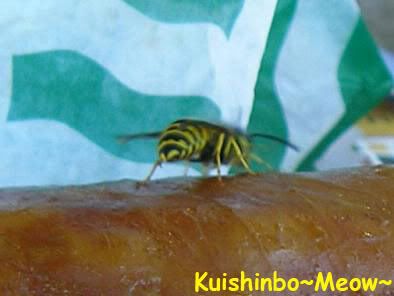 See? Even the insect was attracted to my turkey leg. ;)
However, as the word JUMBO aptly described it, I could only finish 1/4 of the whole turkey leg.
I brought the remaining home and...
with some "brilliant" ideas in my mind...
I used the turkey leg for 5 dishes. Tee hee hee...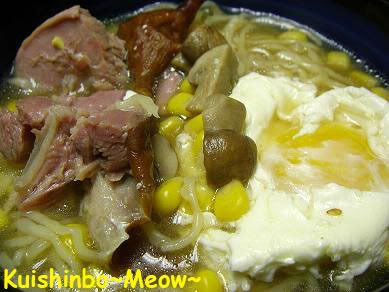 Dish 1 : A soup noodle with turkey and good quality egg.
Imaging how the thick creamy egg york coated the flavourful turkey meat. Truly excited my taste buds.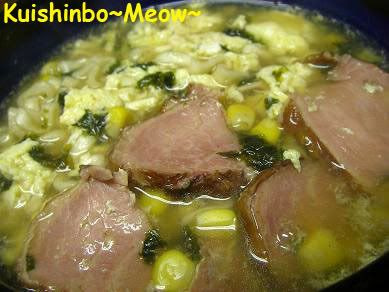 Dish 2 : A Japanese instant udon with egg-drop soup and sliced turkey meat.
Oh yes, you bet the soup was so sweet because the umami of the turkey meat blended so well with the miso paste. Yum Yum~~~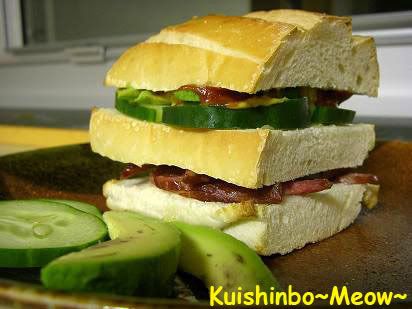 Dish 3 : The top favourite of all. A baked turkey sandwich with fresh avocado and cucumber slices. It was flavoured by Reggiano cheese, organic ketchup and golden mustard.
Awww... this dish was so orgasmic. I felt really proud of myself because of this dish. I felt sexy indeed when I was enjoying it slowly. LOVELY!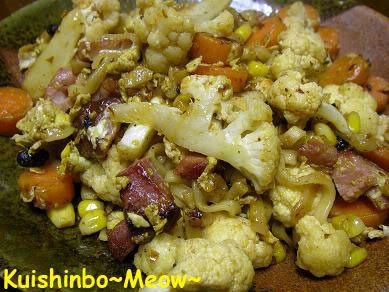 Dish 4 : Heeee... a fusion style Udon Goreng with Turkey chunks. By adding some spicy bean paste, it made me reminded of the goodies Malaysian Goreng Dishes soooo much. Ah... I miss Nasi Goreng, Mee Goreng, Beehoon Goreng... and above them all... KUEY TIAW GORENG!!
Oh well, this dish did heal my home sickness a bit though.
No Fish, Prawn Also Can (a local way in my hometown of saying... You can't get the best, go for the 2nd best also not bad).
Finally, my Dish 5... I talked about it.
Click here
to view it. ;)
So, if you have the luck to try fish fish's turkey dishes, which one will you choose? :P
Ok, time to Zzzzzzz soon.
Selamat Malam.
Remaining for Project October 100 : US$ 27.46