Project October 100
It is very rare for me to do 2 posts consecutively. This is a special case, as I need to announce my October project.
You see, I spent a large amount of money in September for settling down and for the Washington DC trip. I have another big trip in my mind for Christmas.
Therefore, I seriously need to have a good saving for these coming 2 months.
I'll start with the month of October.
Apart from the rental fee (which included water, gas and electricity), I'll challenge myself to survive a whole month of October with US$100.
Hehe... no kidding! I am serious about this.
The US$100 will also include my phone bill (minimum US$18) since I consider phone is something luxurious and not something essential for surviving. Ok, so there might be no calling from me for this whole month. :P
I'll keep you all updated from day to day on this Project October 100 of mine.
I did it once in Japan 2 years ago with 10000 yen. I made it.
I shall make it again. Since I still have quite an amount of food storage, it should not be hard for me.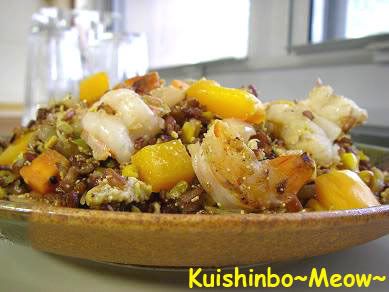 For boosting up my spirit for this tough month, I used leftover ingredients in my fridge that is quite luxurious to cook a plate of nice fried brown rice as a brunch.
It was really yummy!! I am fully charged.
Gimme a good hug... and wish me luck! ^_^