When sweetee met saltee
I went to get a beautiful organic vegetable couple weeks ago.
An Organic Sweet Pumpkin for US$2. It stayed in my refrigerator for a long time as I haven't figured out what I should do with it.
I bought it just because it looked such a sweetie. :P
Eventually, I got an idea.
By using half piece of country cured ham...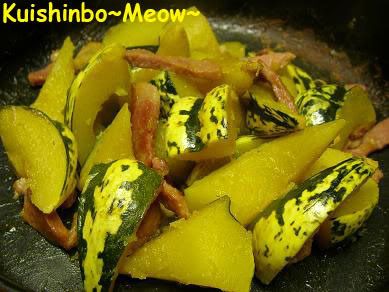 I turned the 2 into a very easy to prepare dish.
All I have to do was cut the ham into small slices, stir fry them into lightly crispy, so that the oil from the fat part was squeezed out by the heat.
Then, I added in the cut pumpkin and let the heat simmered it for a short while.
Final step was to add a glass of water, put on the lid, and let the things simmered in medium heat until the water dried up.
DONE!
The saltiness of the ham brought out the sweetness of the pumpkin perfectly.
No additional stuff inside.
It was a simple yet fun time in the kitchen. Especially the nice smell of the simnering dish kept strongly seducing my taste bud. Gosh~~~
Heee... Pumpkin? Halloween?
That's what we need in October. ;)
Remaining for Project October 100 = US$ 68.11