Asparagus Rigatoni with crab meat and mushroom Alfredo sauce
How do you know if you are seriously lack of sleep and that eventually turn into a stress that is accumulating in your body?
Fish Fish has 2 most apparent symptoms.
1. White hair grows on her head in an overnight time. I spotted one on my head today. -_-"""
2. Her tinnitus is twice as loud as normal time. Which is happening today too. -_-"""
The only solution is to earn back my sleeping time.
Yah, I need to sleep at least 9 hrs tonight, I promised myself. :P I must change my bad sleeping habit that I picked up. Must!! Nothing bring bigger damage to me than an insufficient sleep.
Anyway, I made myself quite a luxurious instant pasta dish on last sunny Saturday.
It was more like one ingredient led to another ingredient in my kitchen.
I bought a pack of
rigatoni
a couple weeks ago because they looked cute. I was thinking to stuff something inside to make western style Dim Sum. :P Eventually, I didn't. Too lazy.
Then a few days later, I saw fresh asparagus sold at good price. Grabbed a pound.
At another corner, I saw this canned crab meat for only US$8.99 a pound. Failed to resist the temptation. That too, went into my cart.
Afterthat, I asked a friend what sauce would be good for a pasta with crabmeat... The answer was
Alfredo sauce
.
So, I went to grab a pack of fresh white mushroom and a jar of Portobello Alfredo sauce a few days ago.
Then... on Saturday, I mixed everything together with an addition of sauteed onion, chicken broth and ground black pepper...
After 30 min...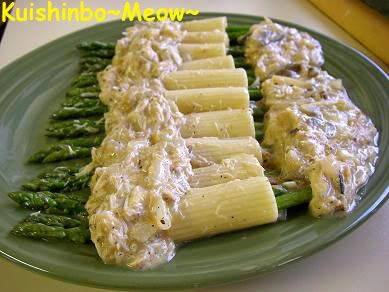 Tralala~~~
A huge plate of Rigatoni with fresh Asparagus in Crab Meat and Mushroom Alfredo.
I put some effort in decorating it by inserted the asparagus into the rigatoni hole and spreaded the sauce on them. :P
How do you like the look?
The meal was so satisfying. Giving me energy to have a long walk after that.
Hmmm... now looking back at the picture, I need to buy a white plate.
Good night!