Green Bean Bundles
Yesterday was such a good sunny day. I was having a cooking experiment for this coming Monday Thanksgiving lunch with my co-workers.
I chose to prepare green vegetable.
After some searching in the internet, I found a simple yet nice recipe -
Green Bean Bundles by Paula Deen
. She is my favorite, always so enjoyable when watching her cooking show. She makes butter sound not sinful but irresistibly good.
Here is her recipe for Green Bean Bundles.
Ingredients :
1 pound fresh green beans
Olive oil
Salt and pepper
Bacon
Cooking steps :
Preheat oven to 350 degrees F.
Blanch green beans for 3 minutes. Toss them in olive oil and salt and pepper. Bundle about 5 green beans and wrap a piece of bacon around the bundle. Place in a roasting pan and roast for 10 to 15 minutes, until bacon is cooked.
Well, I followed most of her instruction except a few minor modifications.
1. I only used 10 green beans for making 2 bundles.
2. I mixed the green bean with olive oil, salt and pepper in a square 24oz ziploc container. With the lid on, the tossing was so easy.
3. I only used half slice of bacon for each bundle, preferably with minimum fat layer. I made a spiral wrap on the green beans.
4. Instead of 15 min, I toasted my green bean bundles until the bacon turned beautiful glittering brown.
The result?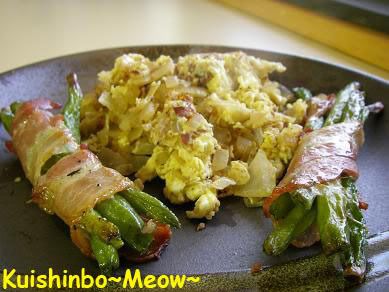 My green bean bundles with onion and bacon omelette. :)
That was my brunch.
Surprisingly good. Although the edge of the green bean over-toasted a bit, but the other parts were great!
See what I mean?
The green bean was so soft, giving a contrast to the slightly crispy bacon. Choosing the less fatty bacon was a wise choice.
If you never do this, should really try it. Very simple yet the final product is really worth more than its preparation.
I really want to do this for the Thanksgiving, I was hoping my sickness will get better today, but there was no sign of it.
In fact, anything just smell scentless to me and quite tasteless too.
So, considering the food safety in preparation, I'll prepare something with much less hands contact with the food. Gloves and a mask will be in need this time.
I have found an alternative... Green Bean with Toasted Almond. I have 2 ways to do it, will try it later this evening and decide which one will be my final selection.
Illness - I am so sick of it. Get away from me!!