GRRRRRRRRRRR!!!!
I spent three days including weekends to get my important samples ready so that I can freeze drying them today. Yes, I went to my work place for 4 times in the weekends, woke up early in the morning and walking alone at night just for changing the solution so that I could get my sample ready for freeze drying today. I walked in those COLD days because I want to freeze drying my sample today.
The freeze drying wasn't smooth for me in this morning with a few things. So, I decided to clear my mind, had a good lunch and did that again after our weekly meeting. It was a right decision. I saw the problem instantly and got everything set for freeze drying.
It started at 3.00pm. For every 30 min, I just went there to give a check so that to make sure the freeze drying process was going smooth. Everything went well, I smiled because my work will be done as planned before the 4-day Thanksgiving Holidays.
Then, I checked them at 4.30pm, they started to turn very beautiful white flakes. In fact, about 10% of the samples was started to be completely dried. They were pretty!!
So, at 5.00pm, I had my dinner in my workplace, had a nice chat with my workmate and started to pack my stuff to go to the gym.
However, just to make sure the freeze drying was still going right, I went to check it for a final time around 5.30pm.
SHOCKED!!! with ANGER!!
My 4 FLASKS of samples all melted. I thought I was dreaming, *ouch* but the incident was for real. I almost wanted to cry, my mind was blank, didn't know what was really happening.
Then, I noticed there was an extra HUGE flask, popping out from no where. A 600 ml flask. The ironically hilarious part was... only a SMALL BALL of sample inside, not bigger than 2 cm diameter!!!
For making the thing looked more ridiculous, the WRONG CONNECTOR!!!
MOST IMPORTANT THING - it is a common sense when there is other person samples occupying the machine, at least ask first. You don't simply just put your thing as you like, especially if you don't even know the proper way of doing that.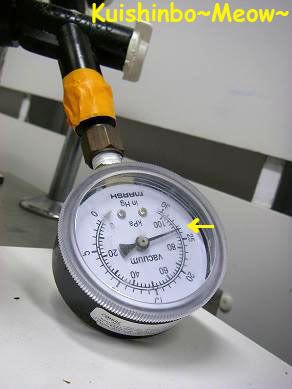 See? The whole chamber was not in a fully vacuum condition after that.
The consequent?
Damage to my samples! I'll have to talk to my boss if I can use it for refreeze drying again. Try to thaw and freeze your food a few times, will it still be the same?
I wrote a note for the owner. Wait till this owner come to look for me 1st!