I challenged it again!
After my trauma at age 13, I finally have the gut to challenge it again.
Yeah, I tried to make my 1st cookies at that time, it turned out to be a total failure. My cookies were as hard as rocks that would kill a dog.
Ever since then, I've never tried to make a second one.
Little did I realise, I didn't make it for such a long time.
Somehow, ever since I came to North Carolina, life have been very ordinary for me. No car, no convenient train nor bus, it made me stay at home most of the time beside my work place.
The cooking shows on TV look fun. Hey, making cookies or desserts do not look as hard as they were.
However, the true reason that triggered my gut to try to make a baked dessert again, was Tristan yummy homemade soft and chewy chocolate cookies. I want to see people happy face the moment they eat my cookies or desserts.
So today, I tried to make Japanese Sweet Potatoes.
I thought they would turn out messy when they turned too soft after mixing the whipped cream. I had to scoop out some of the whipped cream, still that was too soft.
However, after a 40 min baking...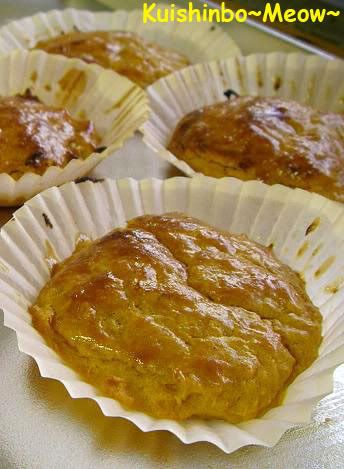 Tralala~~~ they were safe!!! I was jumping with joy. This really meant a lot to me.
Although I need to do some improvement on them, they really turned out better than I have thought.
The taste... it was absolutely marvellous, at least for me.
Ok, tomorrow I'm going to bring these to my workplace and let my work mates be my guinea pigs.
Tee hee heee.... I'm so excited now.
The recipe? Wait until I am really satisfied with it first.
Night night.