The Martini was good
I just came back from a great appreciation dinner. We were in a nice place. It happened that today the Martinis were for 50% discount.
Tristan was ordering a glass of pomegranate martini. I looked sinfully good, sweet and fruity aroma...
It triggered me to be curious on the taste. So, instead of pondering around the many attractive choices, I decided to go for it.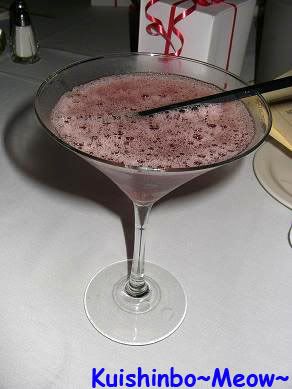 My glass of Pomegranate Martini before dinner, which was for US$5 only.
It was absolutely yummy. A great thirst quencher.
The taste was very refreshing, with a tartly sweet flavour. Yet, the alcohol was strong enough to make my face blushed. Heeee... I am that low tolerancy on alcohol.
Well, the better part was followed after the drinking and light snack session, which I'll talk after the next post. Yap, the 2 of them are related to each other. ;)
Now? I want my sleep.
Nite nite.