A hidden place - Neo Monde
Today, Jason and I went to a hidden famous place in NC for lunch.
NEOMONDE
. This place is definitely an exciting new world of great Middle Eastern food for me. I am really glad I know this place now.
We were there around 12.30 pm and I was really surprised although the location was the least likely place you would think of good spot for great food, we had a hard time to get our parking due to the full crowd. This was the 1st shock for me.
Inside the shop, the foods were cooked and all you have to do was to queue in line, make your order and enjoy your meal. Although there were many people, due to the high speed in the food serving, we basically had our food in quite a short time.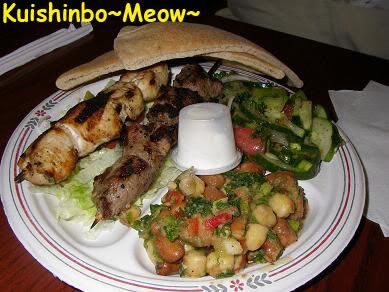 Jason chose a kabob platter with 2 kebabs and 2 salads plate for US$7.99.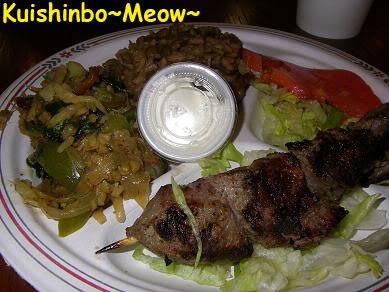 Fish Fish got the choose-your-own-sampler plate for US$6.99.
Each of us can have 2 pieces of cold pita bread for free.
I took 2 pita breads.
I finished everything of mine. :P
Everything was really nice. Reasonable price, casual and relaxing eating, delicious foods! This is what I call home cooking, something that you will not be able to find at all in a chained fast food restaurant.
Mmmmmm~~~~ yummy! The next time I go, I want the falafel and stuffed grape leaves. *slurp*
"Neomonde brings old values to a whole new world"
I like it. ^_^