Homemade beef patties
I bought a pack of fresh ground beef chuck and decided to use 1/4 of it to make something easy for my lunch box.
I mixed chopped onion, chopped celery, sweet corn and 1 egg white to the ground beef and blended all of them until they sticked to each other. For seasoning, I used 1 tbsp of Alfredo sauce, salt and black pepper.
Then, I put into a 350 F oven and baked until both side turned brown. The extra oil excreted from the meat was soaked away with a piece of paper towel.
It smelled so good~~~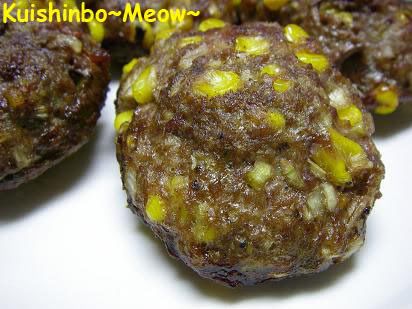 Nothing fancy. Very home style by fish fish. It spiced up my normally dull lunch time though. ;)
Heee... I know, beef patties with corn just sound weird. :P