Welcoming a new age ;)
Oops... it's my birthday. ^_^
As Dec 4 falls on a Monday this year, I decided to "celebrate" it one day earlier by...
*ehhem*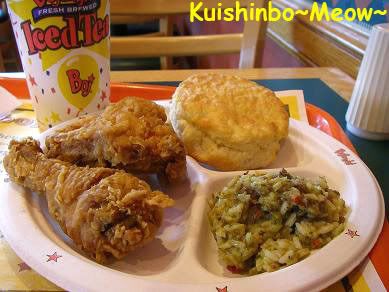 ... ate a plate of Southern Style Fried Chicken!! in Bojangle's... alone. *hmm...* Sound so lonely hor~~~ Well, although it was one day earlier in U.S, it was actually Dec 4 back in Kuching already. So, Kuching girl must celebrate her birthday following Kuching time. :P
I truly enjoyed that high calorie plate. Peeled every single meat from the bone, until so clean!! Absolutely yummy!! I am a fish who highly addicted to Fried Drumstick, this is not a normal fast food for me... after 2 months of no fried chicken diet, this was a plate of GREAT FOOD to heal my soul.
I spent less than US$5 on that. What a super cheap way to celebrate it.
After that, with a bloated stomach, I worked for 5 hrs on this cold rainy Sunday, burnt my calories in gym for an hour, came home to cook myself a beehoon soup as dinner and did my laundry. See... this was how fish fish past her birthday this year in such a quiet way.
Thinking back, except when I was 1 yo, I've never have any birthday party for myself. Really. Not even when I was 21 yo. In fact, I have never have my birthday celebrated in Kuching since 21. It has been a tradition for my family to greet me happy birthday through phone. Simple and fast. Mom would say...
"Boil 2 eggs and 1 drumstick to eat ar~~~"
Yeah, that is our family tradition to celebrate birthday in the very basic form. Somehow, she forgot to say that this year.
I ate my drumstick today. I'll boil one egg to eat tomorrow. Tee hee hee... only left one egg in my fridge now. Better than none right?
Ok... last year has been a very fluctuated age for fish fish.
Here is the list :
1. Dec 2006 - Mar 2007 - Last 4 months in Kyoto, Apr - Aug 2007 - Only 5 months in Kuching, Sept - Nov 2007 - First 3 months in NC. See, 1 year I changed 3 countries.
2. Said bye bye to my student life. Finally!! Then, jobless for 5 months. Luckily, started my 1st job and 3 months has past, safely. :P Three months only, but I am already starting to learn the proper behaviour in a working world.
3. Moved to a new house. Spent much more quality time with my family during my stay in Kuching. Have been sharing a lot of thoughts and talks with mom. Especially when I spent the time with her on the cruise and in KL. Truly the priceless moments for us. I LOVE YOU!! Thank you mom, for bearing the pain on this day many years ago. Heart the 2 little lifes in my family. They were truly CUTE!!!! I miss them very much now. How long will I have to endure to be able to see them? *sob sob*
4. Bye bye to my 11-year vegetarianism. It was an extreme shift. Ever since I started to eat meat and seafood from January, I have tried some of the exotic and bizarre foods. To name a few - Kobe beef, horse sashimi, puffer fish, milt... But still, I love my vegetables and fruits.
5. Became a Scuba diver and turned quite extreme for the sport during my 5 months in Kuching. Went to Sipadan for one of the most unforgettable diving trip with Angeline and Edward. Truly love the companion of the two. I learnt so much in the underwater world. From gigantic shark, turtle, stingray to colourful nudibranch, coral and christmas tree worms... these are the familiar words in my dictionary now. Even caught my 1st lobster. Experienced a dinner with 13 lobsters and 6 big fishes for a table of only 10 people. That was just the small part of the fun I had in diving. I am still waiting for kissing a turtle for real next time though. *Grrrrrr... Kaye and Angel just went to Sipadan and water rafting.* Left me out. Hmmmpfh!! I want you girls show me the pictures!!! I MISS DIVING!! and THE DIVERS!!
6. Learnt to know the many unknown hiking and trekking sites from Edward. He really taught me a lot of things about nature. Kuching's nature is a few level up for me after his "teaching". I'll never forget that splendid bamboo bridge. Thanks sensei~~~
7. Used shinkansens and flights much more than usual to travelling around. I miss taking Shinkansen now.
8. Friends. Well, each of them left a footprint in my life, some still around me, some not. I appreciate all that. The good and bad experiences turned what I am today. One thing I am really happy, I spent so much quality time with Min Fui this time after so many years we never really get together in the same place. Girl, I love you! Both of us went through a lot of thing. Neither one of us the goo goo gaa gaa in Primary 1 anymore. Thinking back how we were together everyday in our young age, then once a year during the past few years, yet still able to share each other secret with no gap at all till now, that is really amazing!
9. A total of more than 20 kg weight up and down in 1 year. Geee... Hoi Chin said I am like a balloon. Heee, I think she is right. :P
10. A stone that stayed in my heart for more than 10 years, I finally put that down, magically with a hand movement. :) I am a true me now. I love the fish fish now. I know how to love the meaningful ones around me now. I learnt the real meaning of
"Look at what you have now, not what you don't have"
. It sounds easy, but took so many years for me to finally understand that.
Still, I am a very greedy eating fish and love to sleep fish as usual. Oops!
One year older?
Nah~~~
It is one year prettier, wiser and richer. ;)