A great 2007 New Year Feast
^_^ It is not Monday Blues for me today. It is a holiday for Martin Luther King Jr. Birthday. So here I am, while waiting for my laundry to finish, I am blogging on a Monday!!! *Shiawase~~~*
Today, I am going to talk about a very unforgettable food experience I had during the New Year.
XXXXXXXXXXXXXXX
After a good evening at
Belacan Malaysian Grill
, Ayumu and Naomi invited my Mr. Food Guide and me to join them for a homecook version of
Osechi Ryori
.
As a person who is greatly interested in food cultures, I assured Mr. Good Guide this was a golden chance never to be missed.
Fish Fish had her
fabulous Osechi experience exactly one year ago with Yuriko's family
. Since then, Osechi has a different meaning for me. Therefore, I know Mr. Food Guide would take his Japanese Cuisine experience to another level with the Osechi. Little did I know, it took me to another level too about Japanese foods this time. :P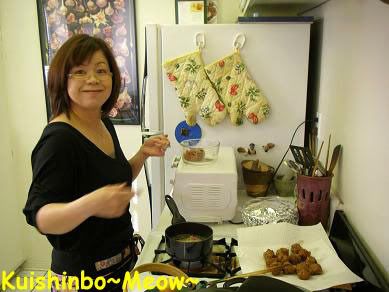 We reached there at 10am when Naomi was still finishing up here preparation for the Osechi.
I truly love her whole house. Espeically her kitchen.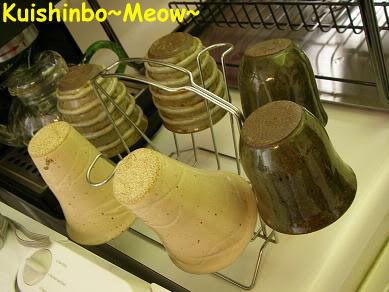 She has so many fabulous Japanese kitchen utensils.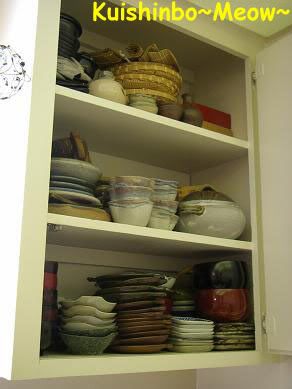 Gosh~~~ see all these pieces??
I suprised me when she told me she has another 2 store rooms full with these pieces. ALL MADE BY HERSELF!!
Yes, she made all these wonderful pieces!!!
Amazing huh~~~ She told me her major was art. During that time, she started with the Japanese pottery and her sensei told her,
"You'll become a pro in pottery when you made more than 1000 pieces"
.
Today, she has made more than 2000 pieces. All those practices made her art pieces perfect. Truly captured my heart.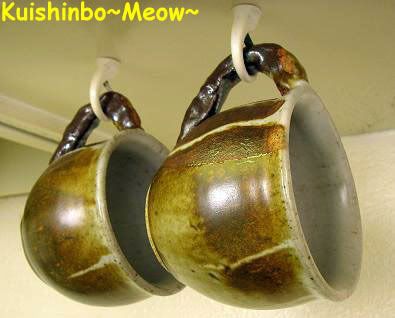 Among them, these were my favorite. I just love these mugs so much. It is not something will be easily seen even in a Japan. The way how she infused the Japanese element into this western-looking mugs. A touch of traditional colour in her modern design.
She surprised me again when she decided to give one of them to me as a present. *blush* *happy*
Every piece that she made, she used her heart. These pieces are not only good in looking, but very consumers friendly. Ease in holding them, washing them and keeping them... she took all these into consideration.
I am amazed with Naomi. She is a woman posesses both inner and outer beauties. I'm sure you will agree with me when you continue reading this post.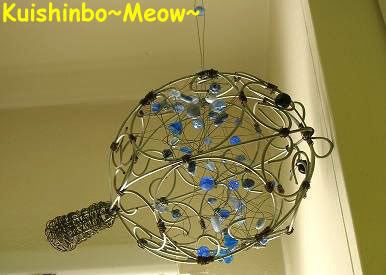 Another of her creative art pieces. Puffer fish to give a colour to her kitchen.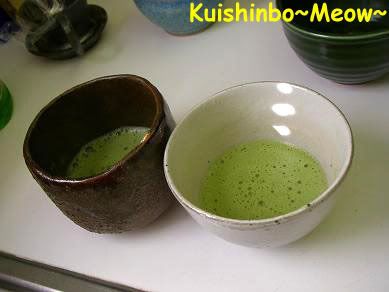 Even these chawans... each piece was by her too.
She made a nice bowl of thin Maccha for each of us with these chawans.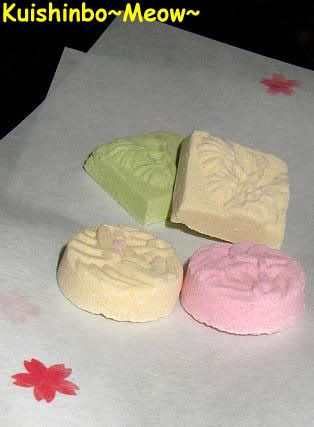 The warm bitter Maccha was served with this high quality sugar pieces made from Wasanbon.
Wasanbon is the highest grade fine particle sugar produced from sugarcane in Japan. The particles are so fine that it resembles powder sugar.
Making wasanbon is very time consuming which explains why less and less wasanbon makers can be spotted in Japan nowadays.
Once popped into the mouth, the fine sweet particles melt in you mouth immediately. It is the best thing to go with the bitter maccha. They neautralized each other so well.
After this appetizer, it was time for a real meal.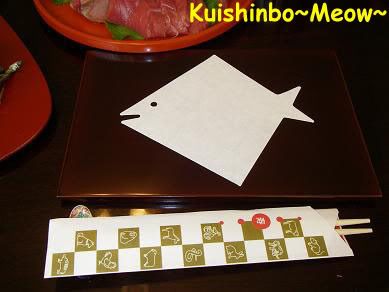 Such a cute piece of FISH for decoration! Heeee...
We were using New Year Chopsticks. It is the year of Wild Boar in Japan.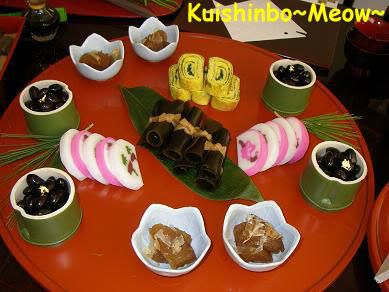 First tray...
These 5 dishes are common in Osechi. Each has its own meaning. Except for the pink and white kamaboko, all the other were prepared by Naomi.
Kamaboko is actually fish cake that generally eaten by Japanese. However, during New Year, it will be formed into pretty pink and white combination. These 2 colours represent happy things for a celebration.
The black beans in bamboo cups were the premium bean from Tanba. Tanba's big black bean has always bean my favorite back to the days I was in Japan. It really thrilled me to see it here again. In order to make these beautiful glittering beans without any wrinkle, Naomi have been putting 2 days of effort in changing soaking water of these beans frequently. She put some golden leaves on top to make these beans 1 rank up.
Beans are called Mame in Japanese. It symbolizes a wish for health in the New Year and hardworking. Black has the power to get rid of bad luck.
Kazunoko (herring roe) in the white bowls represents many offsprings in the New Year. I am not a fan of kazunoko.
Yellow rolled eggs (Dashimaki) or Datemaki (a type of rolled egg mixed with fish or shrimp paste that named after Date Masamune who liked colourful fashion) symbolizes a luxurious and flamboyant New Year. Like the way how Naomi prepared it with the nori inside. Great taste.
In the middle, it is Konbu ( a type of seaweed) that brings the ryhme Yorokobu which means "Happiness".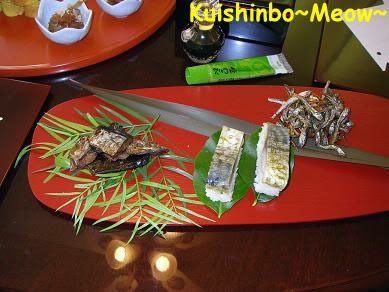 This next plate contained 3 types of fish dishes.
On the left, we have Nishin (Herring). This dish took 4 days from its dry fish form into the ready to eat form. Uji, the place where I stayed for 5 years, is famous with Nishin Soba. The Uji's Nishin is sweet. However, this version by Naomi tasted so much better. Only a very slight sweetness. It has a very unique smoky taste without actually smoked the fish. The taste was very complicated yet not over-flavoured. Each seasoning wisely brought out the intensed umami and savoury taste of this fish. I love the texture. I love the taste. I love to try this again.
In the middle, we have the Sabazushi (a Mackerel sushi) with a cover of very thinly sliced konbu. Usually, I don't like Saba. However, this was a good one.
On the right, it is a Sardine dish named Tazukuri. Tazukuri means "rice paddy maker", as the fish were used historically to fertilize rice fields. The symbolism is of an abundant harvest. Even nowadays, some of the farmer still use fish powder to fertilize their soils. Again, this dish usually too sweet for me but Naomi turned them into such a good dish with great crispy texture and nice salty taste. Gosh~~~ although I don't usually drink alcohol, I was so enjoying my sake with this dish.
We also have a big plate of fresh sashimi. They were the pretty colour yellow Uni (sea urchin roe) from Santa Barbara, the not too fatty cut of Maguro (this tuna was from high quality Blue Fin Tuna that was imported from Hawaii, which is very difficult to get in U.S) and the soft and melty Hamachi (young yellowtail less than 3kg).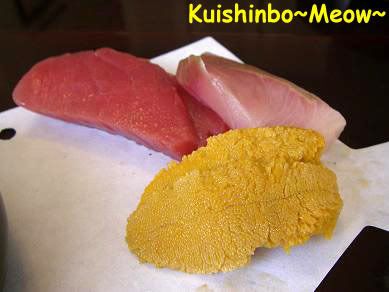 Mmm~~~ each piece are so fresh. The best way to eat them, of course in raw with good sashimi soy sauce and freshly grated wasabi.
Oh my... I realised how much I missed Uni with my first bite on it. Just like eating a sweet butter. *slurp* Gosh~~~ I would love to go to Santa Barbara just to have a taste of the freshest Uni that just take out from the shell. Tee hee hee...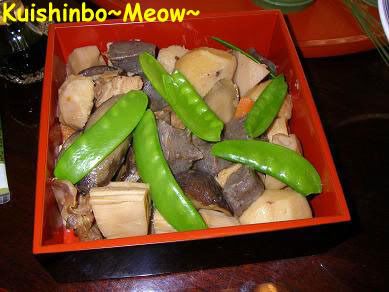 The next plate is a dish with assorted simmered ingredients.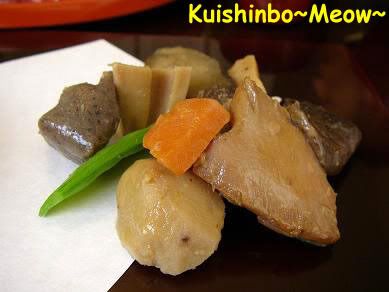 Here is a closer look of the 9 ingredients used. This kind of cooking is called Chikuzenni.
We have chicken, mushroom, konyaku, green pea, carrot, Japanese taro (many offsprings), lotus root (good foresight), burdock (abundant harvest) and bamboo shoot (new born). My favorites were burdock and lotus root. They were prepared in a very good texture.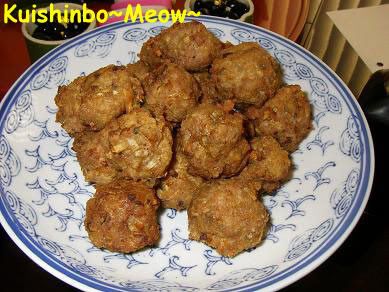 The last dish she prepared when we reached. The meatball with burdock chunks inside. Hehe... this one was more of a western style Osechi.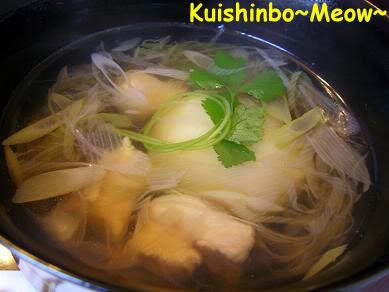 We finished this whole bowl of
Zoni
to sum up the Osechi session. In Japan, each family has their own way of making Zoni, which a rice cake as a main ingredient.
This version by Naomi, she used corn starch coated breast meat, thinly sliced onion and mitsuba (a fragrant vege that is commonly used in Japanese cuisine). Mitsuba has similar look with cilantro, but these 2 things are totally have different effect on my appetite. I am mitsubaphilic yet cilantrophobia. :P
*burp*
At this point, I could feel my dress was getting tighter...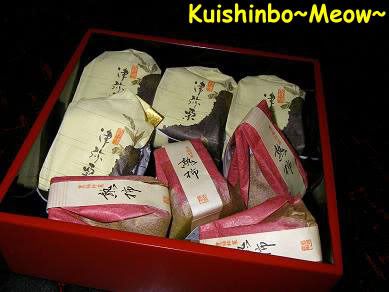 Yet, we were not done until we had these nicely wrap sweet dessert.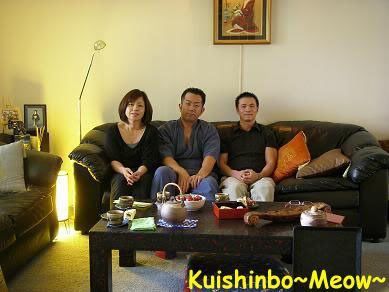 Haha!!! Everybody was so full that we just want to make the pictures taking session ended as soon as possible.
This was absolutely one of the most fantastic home meal that I have experienced. I wish I would be able to cook as excellent as Naomi one day. Before that, I hope I have a chance to cook both of them too one day.
Ok, who wants to be my guinea pig? :P
Thank you so much Ayumu and Naomi. I strongly believe this great Osechi experience is going to make my year 2007 one fabulous year. ^_^