Laksa - a place for Kuching's taste
One of the night, Mr. Food Guide brought me to this place. He knew I would like it.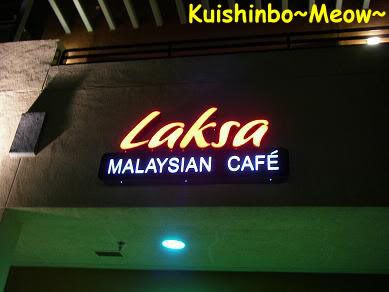 It was "Laksa", a Malaysian Cafe in L.A.
The owner is from same hometown as me - Kuching, a place well known for the Sarawak Laksa. Back in my old town, good laksa is everywhere that one will just take the conveniences for granted.
Now? I was flying all the way from Carolina to California for a nice plate of hometown taste. My Food Guide is a very thoughtful person, the first thing I received from him when I got down from my flight, was a nice pack of Sarawak Laksa!!
Hehe... no picture as I finished all of it before I realised I didn't take any picture of it. It was midnight 1 am when I indulged that big bowl of caloric bomb into my body, but I did not regret it. That bowl of Laksa made me realised how much I have been missing Malaysian food, especially Kuching's food.
So, this time, my Food Guide decided that we should go to have a freshly made Kuching's delicacy.
We were there 20 min before its closing time. *wipe cold sweat*
The owner knows Mr. Food Guide. They were talking in Kuching's Hokkien. Strange yet very warm and familiar to me. I miss Kuching a lot that very moment. It was like bringing me back to one of those Kopitiam in 3rd Mile Old Pasar.
Grrrrr... why my Hokkien is even worse than a guy who has been away from Kuching for 20 years?? Grrrrrr.... Kiut Sim.
Oh well, at least the food there made me feel better with this weak point of mine, which frequently have been teased by my friends back in hometown whenever I tried to speak in Hokkien. They are Hokkien specialists, but I'm not. My parents didn't speak Hokkien with me though they are good at it. I learnt to speak Hokkien by my own when I started my high school just because 1/2 of the classmates couldn't speak Mandarin. If can, I also don't want to speak an awkward Hokkien ar, but I didn't have much chance to practice ler. When at home, everytime when trying to practice that with friends, will sure being laughed by some of the friends and asked to shut my Hokkien up. *sigh*
Ok, ok... enough of self pitying liao.
Back to the happy story.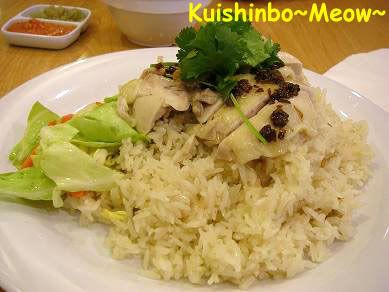 I decided to try its Kei Peng (Chicken Rice). It was good. I like the rice, although not as good as my mom's. :P It is so great to be able to have a plate of chicken rice cooked from "chicken fat". As I especially requested for dark meat, this smooth meat just slurp into my mouth one by one in a very fast speed. I just ate that whole plate of chicken rice with their homemade chili sauce. Just like the old days how I would eat my mom's chicken rice. I would finish 3 big plates of chicken rice alone whenever she cooked it. :P Mom, will you cook that again for me next time? It has been a really long time I didn't taste it.
Well, no fish, prawn also can lar. Laksa's chicken rice was a great choice. The only thing, where was my cucumber? Why serving it with the pickles? (The pickles quite refreshing though)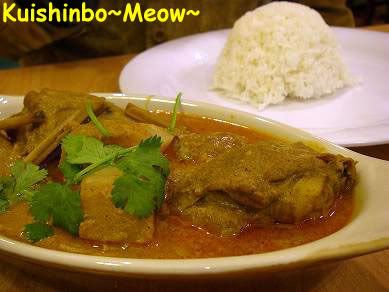 My guide chose a menu he has never tried in this shop. Chicken curry.
Oolala~~~ it looked good.
More oolala~~~ it tasted great.
Just like a good bowl of chicken curry should be.
Melt in your mouth chicken, soft yet firm texture potato and the spicy yet flavourful gravy...
Mmmm~~~ it just made the plain rice tasted so sinfully good.
Everywhere in Malaysia has Kei Peng and Kari Peng, but each city has its own unique way of doing it. Laksa brought out the Kuching taste, which could only be sensed by a Kuching's girl. ;) Ok, say me bias if you like.
Thank you Laksa, because of you, my home sickness was healed.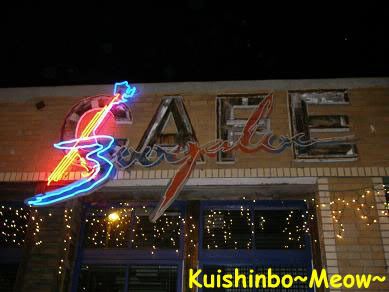 The good dinner should continue with something fun. We went to this Blues pub.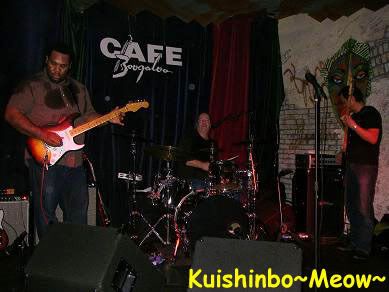 Inside, we enjoyed 1 hr of live Blues music performance.
It was my 1st time experienced a live Blues band.
I LOVE IT!
I wish I was not sick that time. I would definitely stay there for another hour until the whole performance ended.