The Original Pancake House
During my visit to L.A., there was one late morning I particularly wanted an American brunch.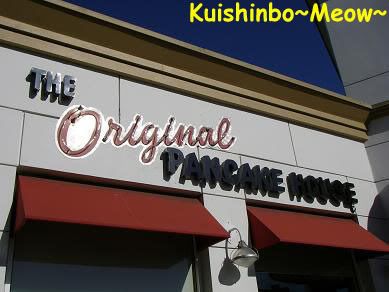 Mr. Food Guide decided to bring me to this
Original Pancake House
at
Yorba Linda
. There were a huge crowd of people having their brunch after their Sunday church.
This pancake house was founded in Oregon and now have more than 100 franchises in U.S.
We waited for about 30 min before it was finally our turn to get seats.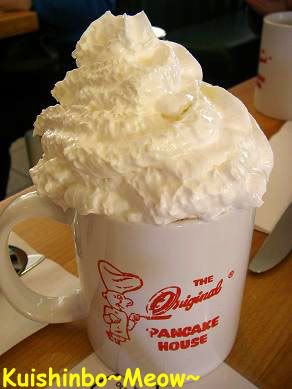 I ordered a hot cocoa.
It shocked me when the waitress brought me this huge cup of "cocoa".
Holy smoke! No way I was going to indulge all those cream into my stomach.
I had to reask one that was without whipped cream. Lesson learnt, the next time, must ask them not to put whipped cream for me.
Even without the cream, the cocoa was still too thick and sweet for me. I had to add another glass of water to make it to my liking.
Well, although the cocoa what quite a shock for me, I did enjoy the next two choices made.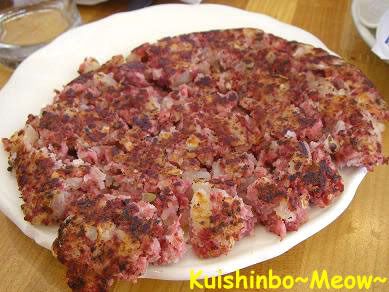 One of the specialties of the house - Corned Beef Hash.
I like it. The homemade hash with a blend of kosher corned beef, potatoes, onions and cream really prepared in a way that was not too dry and not too oily.
We finished it in a very short time.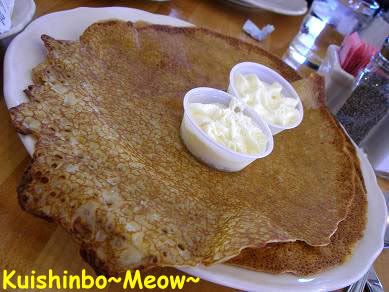 A visit to a pancake house will never be perfect without having a pancake!
49'er Flap Jacks - the name attracted me to order it.
It turned out not the typical thick and fluffy pancake. This is a version from
Mother Lode
Country. The 3-piece pancake was in plate size, thinand beautiful brown color.
It has a very nice chewy and tender texture. I enjoyed this texture a lot. Its taste resembled the sweet pancake that fish mom use to make when I was young. It matched well with the attached whipped butter and hot syrup.
If I am to go back to the house again, definitely is because of this.
*slurp*
Well, we did make a wrong order though. Their special potatoes.
I didn't like it.
Oh well.
Overall, it was the type of simple yet nice American brunch that I would like to enjoy once a while. ^_^