Simple baked chicken
I saw some chicken thigh with very good price. Somehow, I remembered the grilled chicken my mom used to make when I was young.
So, I called her for the recipe.
It sounds easier than what I have thought.
So, I decided to get my hands dirty in the kitchen on Sunday.
I deskinned 2 chicken thigh.
Then, rubbed a mixture of salt, powdered ginger, powdered garlic and ground black pepper. (My mom used all the fresh seasonings.)
Let it marinated for about 1 hr. Drained excess liquid.
Rub honey just before baking (more if you prefer to be sweeter).
Baked in oven at 325 degree F for about 15 min on each side. Then, brushed some oil on the surface and increased temperature to 375 degree F to continue baking process until outer layer turned into a grilled brown. Checked to make sure an even baking on both sides.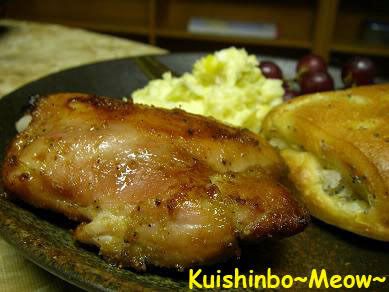 Tralala~~~
My 1st experience on making a baked chicken. :P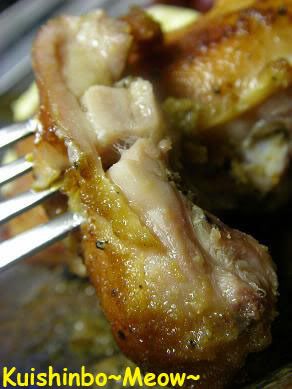 The low temperature retained the moisture and softness inside while the higher temperature turned the outer layer into a more crispy and slightly burnt texture.
It was a piece of good chicken. I should do this more often. I will. Next time, I am going to try with curry powder instead. :P