Bumpy Bubba in Baltimore (3) - Mama's on the Half Shell
On the first night in Baltimore, we went to
Mama's On The Half Shell
for dinner. We chose this place as there were many good reviews.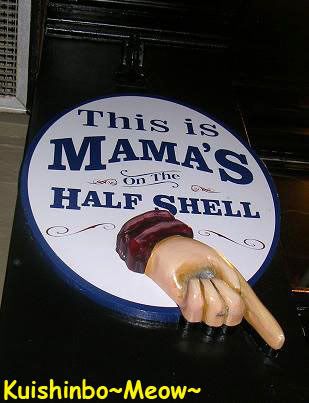 We didn't make a reservation. It was a ridiculous wait for us. Instead of the stated 45 min, we ended up waited for another 1 hr.
The crowd was really packed. Oh my, too much for me.
Finally, we got our seats. Unfortunately, despite waited for that long, they didn't able to make 10 of us sat together. We were separated into a group of 6 and a group of 4.
I was in the group of 6.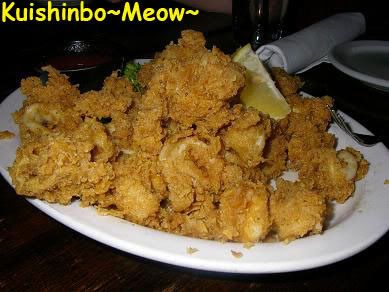 We ordered a plate of fried calamari rings. The batter was too oily, the calamari was not soft enough. However, as we were hungry, these rings finished up in a short time.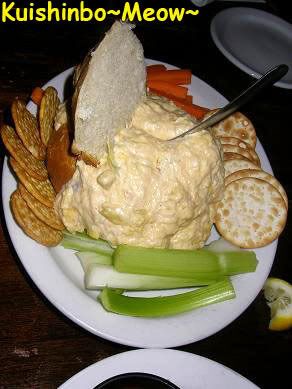 Next, we had a plate of crab and artichoke dip. The dip texture was too viscous and rich for me. The taste was quite nice though.
The dip did taste better with the bread. That was my favorite part.
After the appetizers, we had our own food for the night.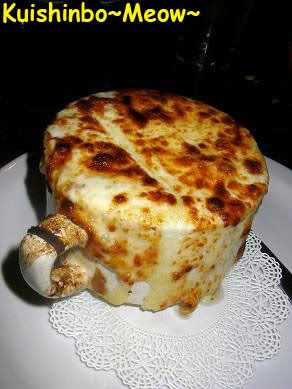 L & M each ordered one onion soup.
Onion soup usually is too rich for me. However, the onion soup for the night smelled good once the cheese layer was broke into. I might be tempted to try if not because it looked too rich.
This was my plate of salad with vinaigrette dressing. The dressing was too sweet for us who ordered it. It would be better if the dressing was more sour and less thick.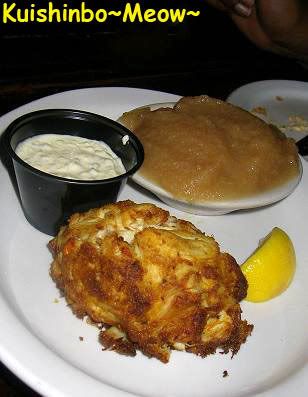 T had a single crab cake with a bowl of apple sauce. I like the apple sauce, not too sweet. A good form of dessert-like side dish.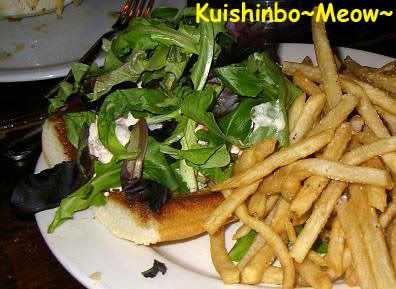 M's lobster sandwich. I tried a bit of the lobster. It was overcooked, the natural lobster taste was masked by the creamy salad dressing. I felt bad for the lobster to be ended up this way.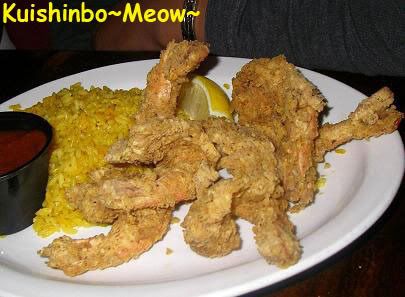 L had a plate of fried shrimp with pilaf.
The shrimp was quite nice.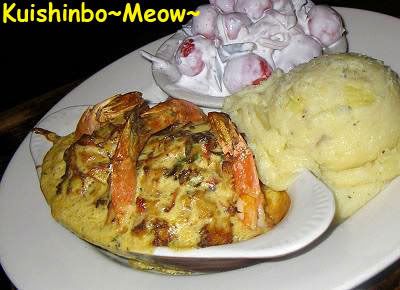 This was A's ordering. She had a plate of stuffed shrimp with mash potatoes and salad.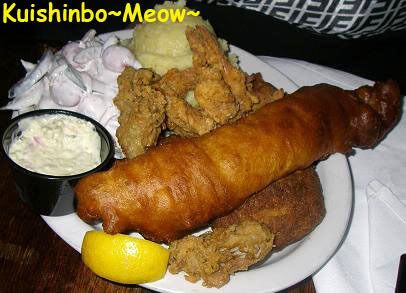 Among all, I have to say this was the most scary portion for the night.
A classic plate of deep fried seafoods. Too much things in one plate.
I have never seen a fish fillet that was that big portion. S barely ate 1/10 of the plate as she was too full. Oh my, that really taught me a lesson never choose a combination plate if you are going to finish that plate alone.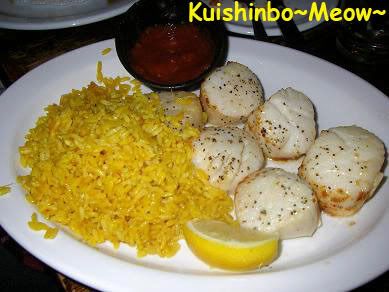 My broiled scallop with pilaf. It tasted good. However, the texture was overcooked. One of my biggest concern in food is good texture. Basically, I was quite disappointed with my scallop for that night. Argh! I miss my heavenly good Japanese Aburi Scallop.
Oh well, my conclusion on the dinner for that night.
Waited too long to be seated.
Food was ok.
Service was quite nice.
Therefore, avoid weekends if you can. Make a reservation before you go.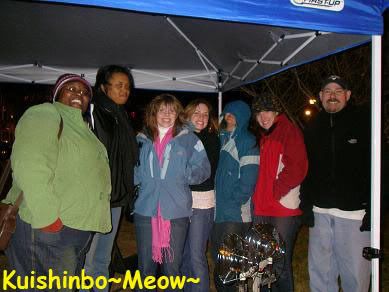 That night was soooo cold. We have to stand besides this great heater to wait for our van. :P