Bumpy Bubba in Baltimore (4) - Capitol City Brewing Company
Our 2nd day lunch was settled in a brewing company's restaurant.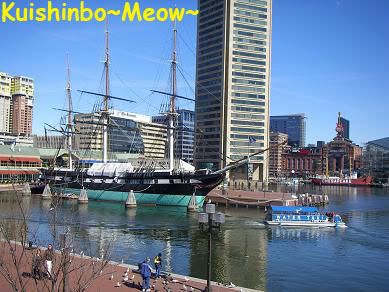 It was located at the harbor place.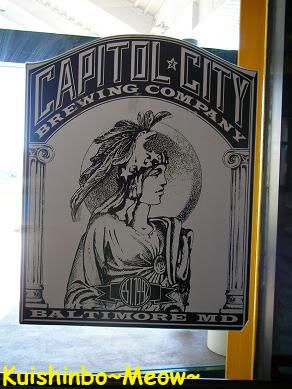 Capitol City Brewing Company
.
We ordered 3 appetizers.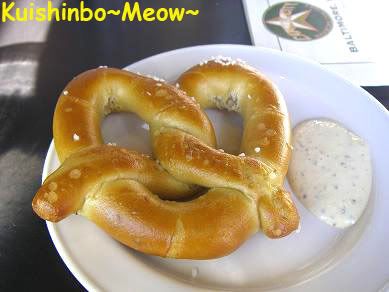 While waiting for the appetizers, we were served some soft pretzels with pungent horseradish sauce that was sinus clearing.
Love the pretzel. It was a good one. Usually I don't like pretzel, this was an exception for me. I finished the whole pretzel.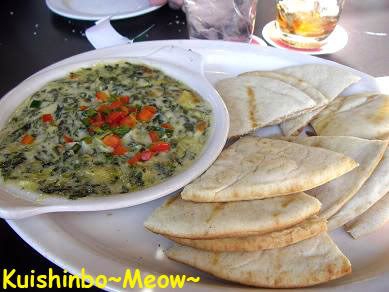 Our 1st appetizer was a spinach and artichoke dip with warm pita bread.
The dip was my favorite. It was in great texture and taste that just suited my palate. The warm crispy pita bread was a fabulous choice to go with the dip.
Excellent for me!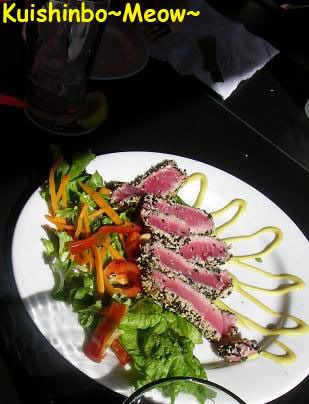 I don't favor Tuna usually. In fact, I am not a fan of red meat fish. However, this plate of Seared Ahi Tuna captured my attention. I liked the beautiful presentation. Tried one piece.
Great taste. The combination of the black and white sesame coating, slightly cooked outer layer and nicely marinated raw inner layer of the tuna definitely brought out the great taste perfectly. The sourness from vinegar gave a really good accent to this fish. Great way to marinate it.
Better, it was a healthy dish.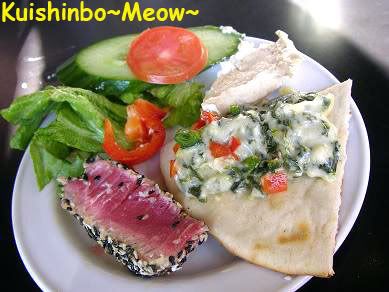 My plate of appetizer. The 3rd one was the milky paste at the upper right corner. It was the Federal Hill Hummus. This hummus was something serious. The rich garlicky taste matched really good with soft pita wedges.
I have no complaint for these 3. They were definitely a better choice of appetizers than yesterday's evening. More healthy, non-greasy and good looking appetizers.
I wanted something to quench my thirst after my appetizer's session.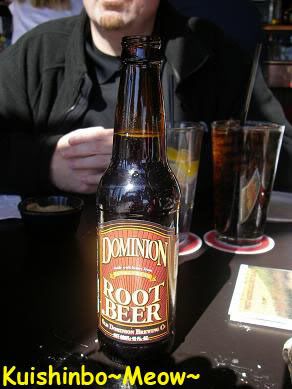 The other girls' choice caught my attention. So, I ordered one of this
Dominion Root Beer
too after looked through the ingredients. Well, this root beer is sweetened with a mixture of locally produced honey and sugar, rather than the corn syrup that is used for most American soft drinks.
M... M... M... M... M~~~. Now, that was good. A good punch of the taste with the bubbles.
You just sipped through the bottle like the way you drink beer. Hehe... at least that was good for us who didn't get a beer in a brewing pub. ;)
However, our waiting turned into something painful. The restaurant was quite empty when we were there, but the food was served so slow. We wondered why it took forever for our main dishes to be ready.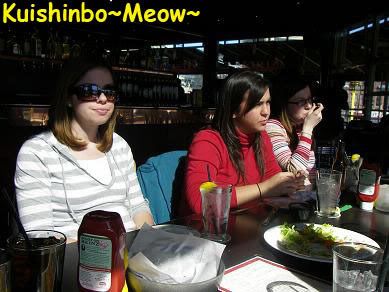 Now, waiting with a strong sun keep shining to your eyes definitely not something good. My neck almost got sunburn from the heat. :(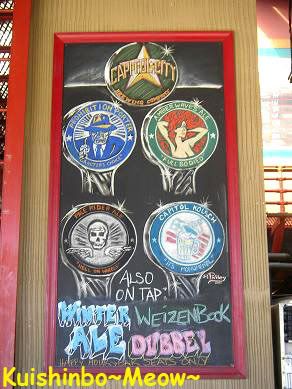 I was so bored that I started to take meaningless pictures here and there.
I forgot how long we waited. We missed the time for visiting a brewery. Gah!! We have to cancel that in our plan.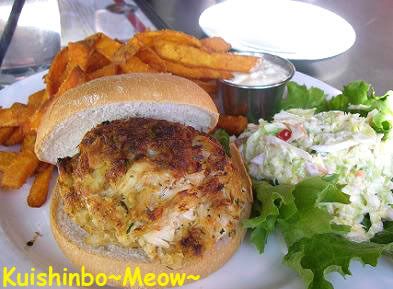 The good point was, I did not have to swallow my crab cake sandwich in a hasty way when it finally came. Instead of having the normal type of fries, I requested to change to sweet potato fries. I enjoyed the sweet potato fries. It was much better than I have thought as I didn't expect anything from it when I ordered it. Very crispy yet non-greasy thin layer of coating with the sweet, soft yet not mushy inner flesh. Now, I would order a sweet potato again if it is this fries. ;)
I enjoyed the crab cake. It was actually one of the nicely prepared crab cake if compared to my past 6 crab cakes. Not too salty. Crispy brown outer layer and moisture crab lumps inside. Didn't like much of the coleslaw though, too creamy for me.
*Chomp~ Chomp~ Chomp~* *Burp~~~*
Although it was a long wait and the service was only so-so, the food was actually quite impressed me. I enjoyed this meal better than my previous one.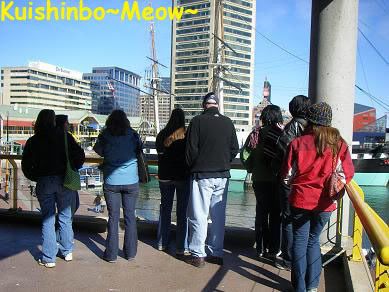 Oh yes... a great way to burn our calories after the meal. Stand and appreciated the nice view of the harbor. :P
Ciao~~~