Humpty-Bubba to Athens -Day 1
The magic mole under my right foot worked again. Last week, it brought me to
Athens, Georgia
in a lovely Humpty-Bubba.
It was about 6 hour-drive from our city.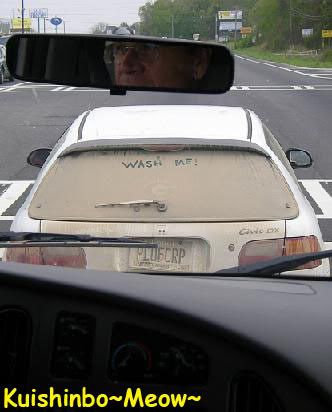 There were a few interesting things on the journey that we encountered. I have to say this was my favorite.
Ewwww~~~ I could see nothing except the WASH ME!!
Finally, we arrived our hotel almost at scheduled time. Hehe... my boss was a good driver most of the time, except a few emergency brakes to surprise us. :P
Opposite our hotel, it was a unique colour building for drinking. *exchanged naughty smile with the other members* *Blinky WINK!*
Woolala~~~ my first time seeing a red jaguar sport car. Everything hard core. So cool~~~ The wheels were my favorite part.
We were a bit late for the dinner meeting. Oops... luckily the hotel where the meeting was held only 3 blocks away from ours.
Hehe... it was a dinner in buffet style.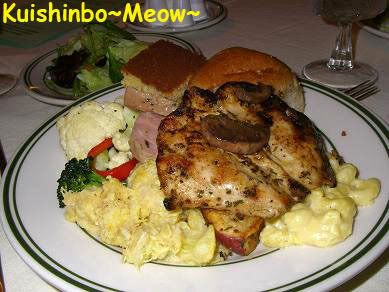 I was so hungry I almost ate the whole thing in my plate except the grilled chicken breast. Too dry and hard for me.
There were
German chocolate cake
, strawberry jam cheese cake and simple cheese cake as dessert options.
Tristan and me shared the cakes, that was why it looked so horrible in this picture due to my lousy cutting. -_-"
I don't like things with commercial coconut flakes, so the chocolate cake was something I least like. The simple cheese cake was a better one among the three. Still, my Kakak cheese cake was one of the best. ;)
After we stuffed our stomach with this generic dinner, we wanted something nice to quench our thirst.
We went to the pub nearest to our hotel. Hehe... now you know what the blinky wink was for. :P
All the other members enjoyed their jugs of beer... choices from as cheap as 99 cents per glass to more expensive ones.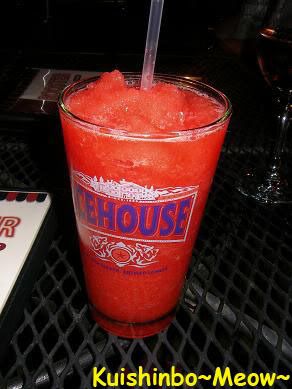 fish fish was the only one chose non-alcoholic drink.
This was called Virgin "something". The 2nd word was too much for me to remember that day, and yes, I forgot to take a picture on the name. -_-" It was a slushy drink that had a slightly sweet but with more soury taste. Anyone knows which drink I am talking about? Please tell me the name. TQ! Judging from the super red colour, I would say the drink tasted better than my first impression on it.
Slow drink, great talk and an enjoyable moment for almost 2 hrs.
It was definitely a great way to relax our bodies and soothe our souls.
Ah~~~ sweet bed time! ^_^