Fort Macon State Park
After a 2-hr visit in
NC Aquarium at Pine Knoll Shores
, we headed to
Fort Macon State Park
. As I did not have any expectation on this Fort Macon, it was surely the best surprise I had on that day.
Absolutely the type of fort that I have never encountered before.
I learned so much from here.
I wonder how about Fort Magherita in Kuching. Even I was born and raised there, I have never been to Fort Magherita. So ironic. Must go to visit it the next time I go back.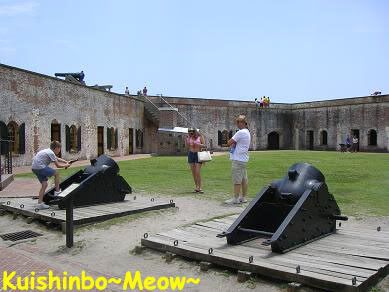 A welcome view of Fort Macon once you entered the main entrance. This place was used for
Battle of Fort Macon
in 1862.
Sang Mi and me climbed to the roof top.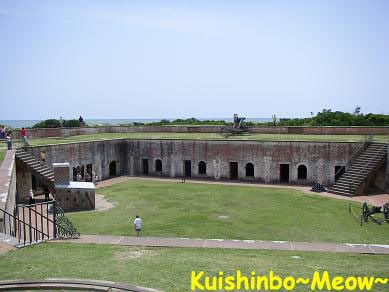 Wow!! It was great. The view was spectacular from top.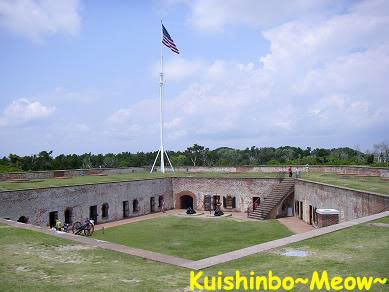 The fort was built in asymmetry, which gave a more unique feature to it.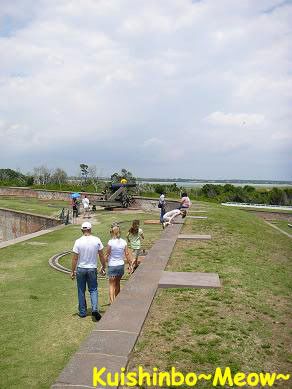 Visitors enjoyed doing exploration around the roof top. It was my very fresh experience to walk around the whole area.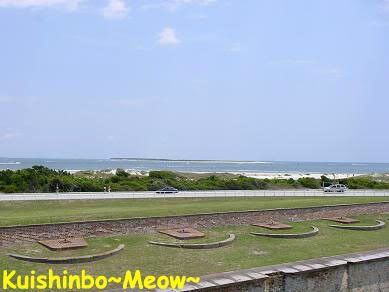 The excitement was even stronger that I got to have a breathtaking ocean view.
Sun was bright, wind was strong and my mind was pondering. I tried to imagine the soldier that stood at the same spot where I was. What was he thinking that time?
It was very hard to imagine such a peaceful place was once a scary battle location 205 years ago.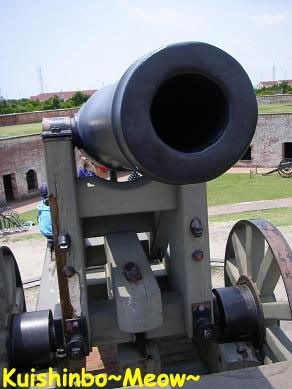 But these huge cannon proved that the war was for real.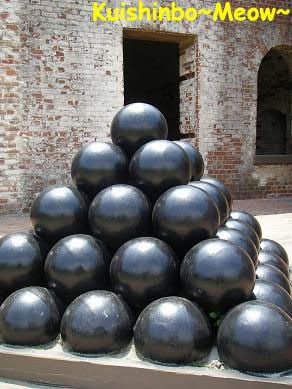 How many lifes have been killed and sacrified by these big, round, heavy yet concord grape-looking balls?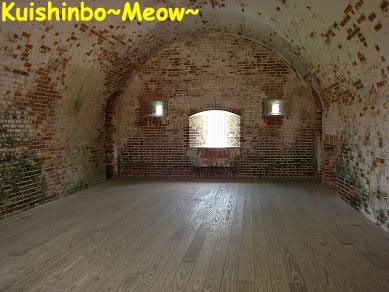 Under the nice green roof top, there were about 26 of these dim light rooms. Bed rooms of the soldiers.
Regardless the temperature was over 90 F that day, the rooms were cool and nice. They needed this in summer.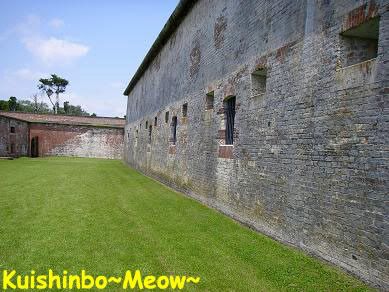 Outside the rooms, the small windows looked almost like the prisons' windows. Maybe they were not much different from prisoners huh?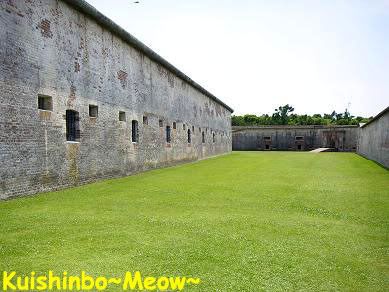 Neat patch of green green grass seperated the room areas with the outer barrier.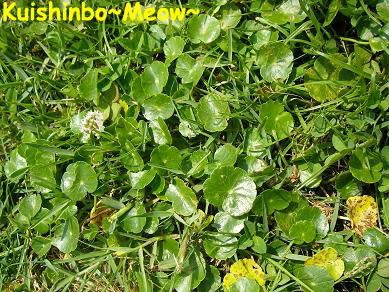 I love this little grass. It was like walking on fluffy carpet.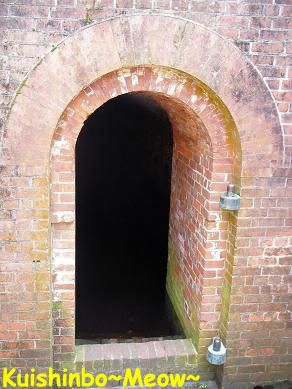 The outer barrier also functioned as a drainage system.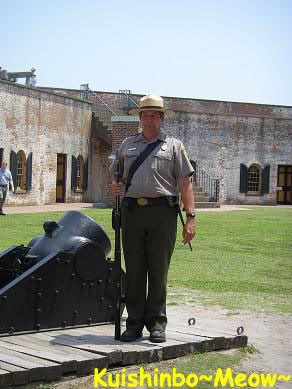 The highlight of the day - a demonstration on how to load a gun with nine steps during that battle.
The gun that he held was used for a real battle back then.
It is still functioning well nowadays.
In fact, after showed all the nine steps of loading the gun, he wanted to show how to fire the gun.
When audiences shouted "FIRE!!"
POOO
OOMMMM
MMMMM!!!!!!!!!!!
Holy cow!! I was really shocked with the sudden gun shot. I never thought a gun shot could be this loud. No wonder he could only used a paper bullet. I could not imagine what might happen with a real bullet. -_-"""
Mind you, this was just one gun, with only 60 grams of gunpowder.
Imagine 205 years back, hundreds of these guns and cannon balls that required 18 pounds of gunpowder each were on fire at the same time.
I wonder if any of them became deaf.
They were the brave crowd.