Linguine with Chili
Today is such a lazy Saturday for me. Did not go out at all, stayed at home whole day to surf internet.
I made something very quick and simple for my dinner. I felt like eating pasta.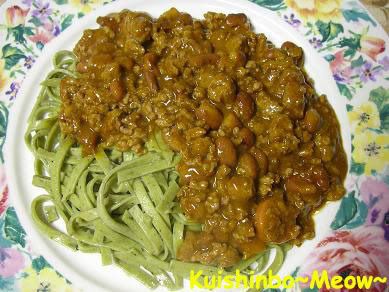 So, I cooked some al dente Spinach and chive linguine. For pasta sauce, I decided to use a can of Hormel Chili. Browned some ground beef and beef frank. Then, poured in the Chili and cooked for 5 minutes.
The whole thing took less than 10 min.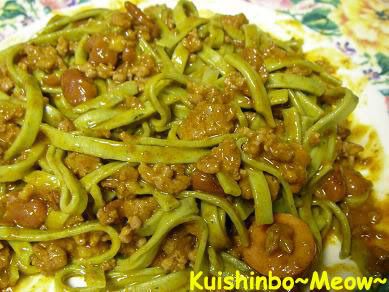 Tralala~~~ my first time eating a chili bean with pasta. It tasted nicer than I have thought. It was like eating pasta with bolognese sauce, but milder. I like it.
When I just arrived in U.S., I thought "Chili" was the common "chili sauce" I knew in Malaysia. LOL What a silly mistake I made. :P Well, at least now I can differenciate both of them well. ;)