Pork Floss Hummus Sandwich
I was pretty lazy last week. For almost every lunch during my working days, I ate the same thing.
I used only 3 simple ingredients.
A long loaf of whole wheat bread.
A ready-to-use
hummus
. I chose red bell pepper hummus.
Finally,
Chinese pork floss
.
It was a very simple step to prepare the sandwich.
Spread a tablespoon of hummus over a piece of oven-heated bread. Top pork floss over the hummus. Cover it with another piece of bread.
The fun thing is, you can use different substitution for each of the ingredient according to your own choice. Multi grain bread with spinach and artichoke hummus with chicken floss. Ciabatta with garlic hummus with beef floss. So many variations you can play with.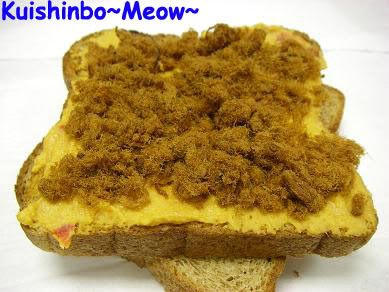 Tralala~~~ a simple, healthy yet yummilicious pork floss hummus sandwich that stopped my hunger for the past whole week. ;)
So, how was the taste when Middle East met with East? I love it! ^_^