Cold Chicken Salad
Wanted to eat something simple yet nice? Not much appetite in summer? Well, this below dish will be a good option, at least for myself. ;)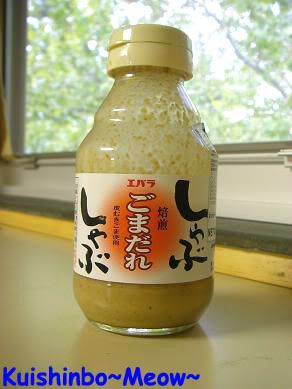 All you need for seasoning is this Japanese sesame dressing. It is called Gomadare. I was looking for the one that is used for noodle, but could only find one for shabu shabu. Well, it would do the work too.
Next, get some nice chicken breast. I used split chicken breast as it is cheaper and I like the meat cooked on the bone to maintain the shape and more tasty to me. The cooked meat can easily be separated from the skin and bone. Cut the meat into small chunks.
While letting my chicken breast boiled for 20 min, I cut some cauliflower to grill at 350 degree F. The cauliflower was grilled till it still has some firm texture.
Also, I grilled some deep fried soy puffs until the outer layer was crispy. Then, cut them into small pieces.
To finish up the work...
Just mix the chicken, cauliflower and soy puffs together with the Gomadare.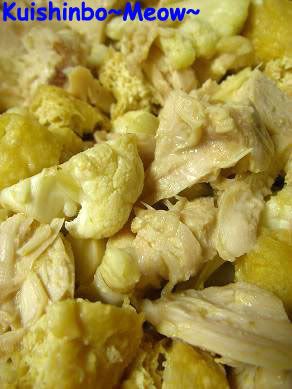 Tralalala~~~ My healthy and fast chicken salad.
It was just yummy to serve warm. Since it is summer now, I made it a cold versoion. Put into the freezer for 15 min to get a quick cold. Then my cold chicken salad was ready.
It had a special function for this Sunday actually. That, I will tell you in my next post. ;)
Curious to try? Get one bottle of Gomadare and you are ready to get busy in the kitchen too. ^_^